Volunteer of the Month – Meet Event and Office Volunteer Marion, from Heyshott
Posted 4 months ago in the Volunteers and fundraisers category
Marion is an Event and Office Volunteer for Canine Partners. This is her story.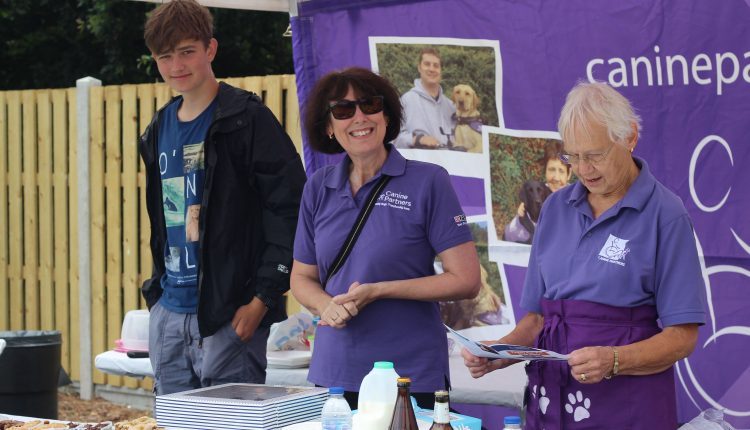 Marion has been an Event and Office Volunteer in Heyshott since 2016, helping to highlight the work of Canine Partners to as many local people as possible, whilst generating much-needed funds for the Charity.
Marion describes how she became involved with Canine Partners:
"I wanted to give something back to society when I retired, and Canine Partners is such a worthwhile cause. Canine Partners is a local charity but I didn't know much about it, although I had seen the dogs and their trainers in Midhurst from time to time. I love dogs and was keen to see what they could be trained to do. I am so glad that I found out more and offered my time to support the training of these amazing dogs that change people's lives."
Marion describes what her role as an Event and Office Volunteer involves:
"My role is varied, and includes writing thank you letters / emails for donations received from fundraising events, individual donations, challenges, talks to groups, collection tin donations etc. I also send out information leaflets, posters, collecting tins for events in the community, and do regular stock checks of merchandise ready for sale at community events."
I am a retired headteacher and that role involved working with all sorts of different people in different situations. This allows me to fit into an office setting and adapt to the requirements of each person that I have worked with. I am also very organised and this really helps with the variety of tasks that I do. Education was always changing with new initiatives and ideas being introduced, which means that I am quick to learn and pick up new skills particularly when using IT."
Marion describes her experience of being a Canine Partners volunteer:
"There is always a warm welcome, and all members of staff are friendly and approachable. As a volunteer in any role you can help to transform people's lives, and at Heyshott you can see the dogs in action (whilst not disrupting their training) and enjoy a dog-friendly office.
There is a role for everyone depending on your skills and the time you can give, and it is really appreciated by everyone. I love being part of a team and knowing that each person is important in their individual role and contributes to the charity as a whole. Volunteers are really appreciated by staff.
Seeing Partners matched with their dogs and having their lives transformed at the end of the process is so wonderful. I have been lucky enough to hear Partners talk about the impact that having a dog has made to their lives particularly with regard to improving their confidence and engagement with other people. It is always very moving and reminds me of why I support Canine Partners."
Become a volunteer for Canine Partners during our 30th anniversary year:
There are lots of ways you can volunteer for Canine Partners during our 30th year. To find out more, please visit caninepartners.org.uk/volunteering
Help transform more lives