Volunteer of the Month – Meet Demonstration Dog Handler, Laura from Leicestershire
Posted 2 months ago in the Volunteers and fundraisers category
Laura has been volunteering as a Demonstration Dog Handler for three and a half years, travelling to various events and locations to raise awareness of Canine Partners and to show people what our amazing dogs can do. This is her story.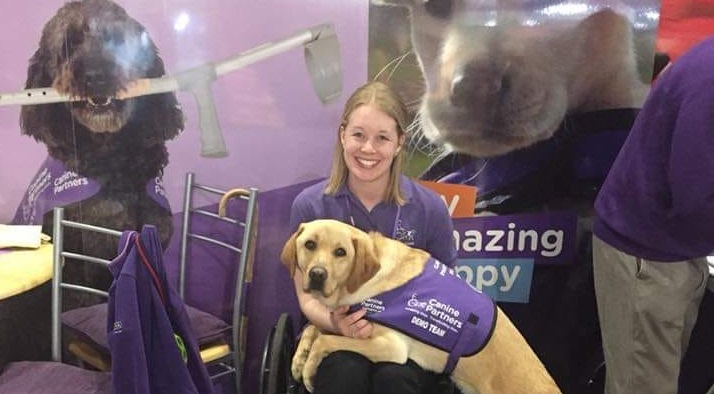 Laura looks after one of the Canine Partners' demonstration dogs, five year old yellow Labrador OJ. Laura and OJ go to Canine Partners events and show the public what practical help our dogs can be trained to provide, by demonstrating the tasks that our dogs may do to help in the day-to-day life of one of our partners.
OJ can help with retrieving items such as the phone or a crutch, he can tug off clothing and he can empty the washing machine – just to name a few! Laura and OJ go to various events across the UK, including the annual Canine Partners carol services, Canary Wharf, and various Country Fairs.
Laura describes how she became a volunteer Demonstration Dog Handler:
"In my day-to-day job I actually work for Canine Partners in the Applications Department. I get to see first-hand the difference our dogs can make to someone's life and to be a part of spreading this message in the work I do with the demo team is so rewarding. I am very passionate about what Canine Partners does and I am naturally a dog person myself, so to now have my own dog whom I can continue training and take to events representing Canine Partners is an honour.
I originally worked in the Advanced Training Team at Canine Partners so I have experience in training our dogs task work. I was in a good position to take on and continue training OJ, and to progress the amount of task work he knew in preparation for demonstrations. I am also quite a people-person and enjoy talking to people, especially if it is about something I am so passionate about. It will always be a pleasure to spread the word, and talk about my experiences of seeing how much a canine partner can make a difference."
Laura describes her experience of volunteering for Canine Partners:
"I get to visit so many places and meet so many people, other volunteers and working partnerships, and being part of such a passionate team is inspiring.  Another huge aspect is that I get to take on the responsibility and training of a demo dog who has become a huge part of my life and who I have the pleasure to see grow in his confidence and skill set.
Volunteering for Canine Partners is such a rewarding role with such variety and social benefits. It means I get to visit places I would never normally have the chance to go to and meet people I would never normally come across. There are also not many charities where volunteers can have such an involved role and have the chance to meet many of our partnerships and see first-hand the impact the charity has.
I am so proud to say that I work and volunteer for such a worthwhile charity and am looking forward to celebrating our 30th Anniversary."
Become a volunteer for Canine Partners during our 30th anniversary year:
There are lots of ways you can volunteer for Canine Partners during our 30th year. To find out more, please  visit caninepartners.org.uk/volunteering
Help transform more lives