Volunteer of the Month – Meet Breeding Department Volunteer Liz, from Lincolnshire
Posted 1 month ago in the Volunteers and fundraisers category
Liz is a Breeding Department Volunteer for Canine Partners. This is her story.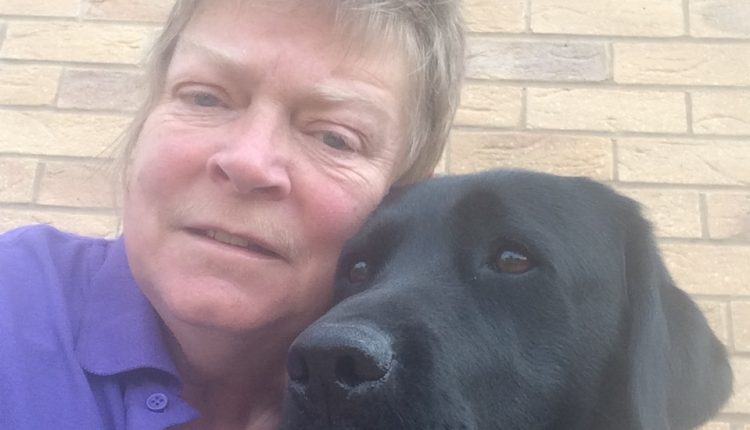 Liz has been a Breeding Department Volunteer since 2018, helping to bring the next generation of amazing assistance dogs into the world!
Liz describes how she became involved with Canine Partners:
"I had initially been interested in the role of a puppy parent, but it was suggested to me that I may like to consider a role with the Breeding Department looking after a canine partner mum – I wasn't aware that the latter role existed.  As I have become more involved with Canine Partners and got to know a few partnerships, it never fails to amaze me how clever these dogs are.
My initial meeting with Canine Partners to discuss becoming a Breeding Department Volunteer was in March 2018.  I then had my first foster dog (a four month old pup from a breeder) in September 2018; she stayed with me for about six weeks.  My brood bitch, a black Labrador called Thelma (affectionately known as Thellie), was placed with me in January 2019."
Liz describes what her role as a Breeding Department Volunteer involves:
"I look after Thellie on a daily basis, ensuring she is healthy, exercised, fed and happy.  At her last season, there were several trips to the vets for pre-mating blood tests and then I delivered the blood sample to the laboratory for testing.  Although Thellie was mated at her last season, unfortunately the mating was not successful.  So, we will keep fingers and paws crossed for better luck in the future.
Obviously, I was disappointed that Thellie didn't get pregnant, but I have had chance to visit a few new litters of puppies so hopefully I have a basic grasp on what is required when the time comes.
Thellie and I were on a stand at a country show last year, trying to recruit new Breeding Department Volunteers.  I helped to man the Canine Partners Plant Creche at the RHS Show at Chatsworth in June 2019, and have also attended other fund-raising events."
Liz describes her experience of being a Canine Partners volunteer:
"Firstly, I have a gorgeous dog who gives me lots of pleasure and keeps me active and I can't wait to see her become a mum. Secondly, I have met some lovely, like minded people so Canine Partners has helped to expand my social circle. Finally, and probably most importantly, I never fail to be amazed at how a trained dog can change someone's life so profoundly.  To be a small part in this process is reward in itself.
Unfortunately, Thellie's initial mating was not successful and it looks like the Covid-19 will put a hold on her being mated at her next season; so it could be 2021 before she has her first litter.  However, I am still excited at the future prospect of her having puppies, although it may be more delayed than we had initially hoped and planned for.  This will be a first-time experience for both of us, so we will be relying heavily on the experience and support of the Breeding Department."
Become a volunteer for Canine Partners during our 30th anniversary year:
There are lots of ways you can volunteer for Canine Partners during our 30th year. To find out more, please visit caninepartners.org.uk/volunteering
Help transform more lives