The South Downs Way Challenge – Martyn's Fundraising Story
Posted 10 months ago in the A big thank you, Challenges categories
Martyn has raised close to £6,000 by taking on the South Downs Way trail - that's over 100 miles on foot!foot!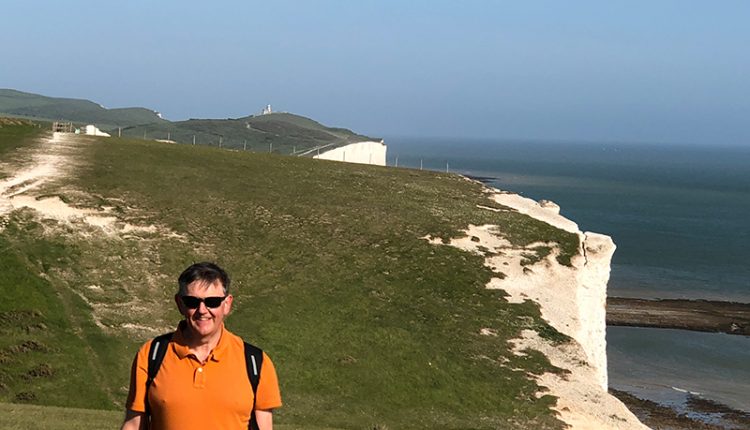 Walking over 100 miles across to span the whole of the South Downs Way National Trails route, Martyn Aguss has managed to raise close to £6,000 to transform the lives of people with disabilities.
After visiting our Southern Training Centre in April of this year, Martyn was inspired by seeing the tasks that our amazing dogs can do and decided he wanted to help fundraise for us. He decided to take on a 100-mile walk across 4 days (around 25 miles per day).
Martyn did plenty of training for this walk of course, and even involved his own dog Molly…although 25 miles would be a bit much for her!
He began his walk at Winchester Cathedral on a sunny morning, ending day one at Butser Hill having covered 22 miles. He was joined by his son Michael on day 2 as they travelled on to Amberley. The beautiful scenery and lovely weather kept the two going for 27 miles.
Day 3 was the biggest challenge for Martyn, as he covered 29 miles in strong winds at the top of the Downs on his own – this was a much more physical day but the "green and pleasant" land kept him going!
It wasn't about to get much easier for day 4 – but at least he had the company of friend Kate as they walked another 25 miles which included climbing the hills of the Seven Sisters and the final ascent at Beachy Head. The final day totalled up to 10 hours of walking…phew!
A huge thank you to Martyn for taking on this amazing challenge to raise much-needed funds and of course to all of the sponsors who pledged to his JustGiving campaign. If you'd like to donate to Martyn's fundraising, visit his JustGiving page here.
Looking to take on your own challenge to raise vital funds?
Click here to find out how you can take on a challenge for Canine Partners.
Help transform more lives