The Inner Wheel of Woodhall Spa raises an incredible £1,700!
Posted 8 months ago in the A big thank you, Volunteers and fundraisers categories
The Inner Wheel Woodhall Spa club chose Canine Partners as their charity of the year and raised an amazing amount of money to help provide greater independence to a person with disabilities.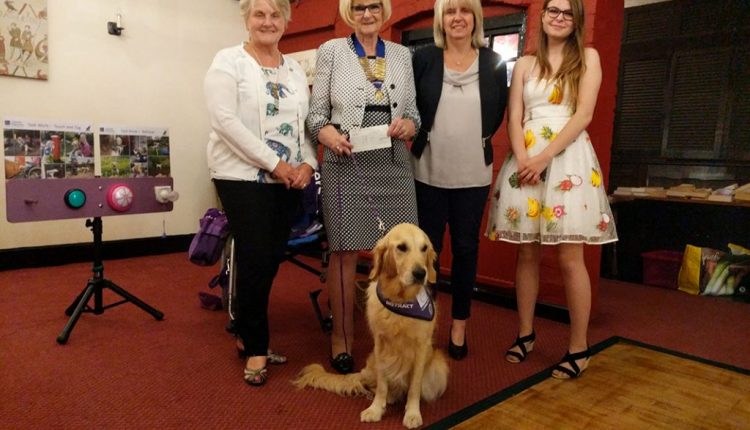 After finding out about Canine Partners two years ago at a Country Show, President of the Woodhall Spa Inner Wheel club Lucille was keen to support our work. During her year as President, it was decided by the group that we would be the beneficiary of their fundraising.
The methods of raising funds were varied – from an afternoon tea in Lucille's garden, to coffee mornings and a cycle ride around Rutland water. Of this particular fundraising event Lucille said:
"I hadn't been on a bike since I was fifteen-years-old and fell off several times – but did complete the task!
There was a lot of support for this fundraising event, with a dear friend of mine opening a JustGiving page which raised £360 for Canine Partners which was wonderful".
With the fundraising total reaching an amazing £1,700, demo dog handler Pauline and her demo dog golden retriever Blythe were invited to pick up the cheque. But first, Blythe gave a full demonstration of the skills a canine partner will learn to support a person with disabilities. These skills include unzipping and removing a jacket, unloading a washing machine and pressing buttons.
After seeing the demonstration, Lucille fed back:
"What a wonderful dog and what a wonderful job Canine Partners do. It was certainly a very worthwhile charity to support".
A huge congratulations and well done to Lucille and everyone at the Inner Wheel Woodhall Spa club – your fantastic fundraising will help us to transform the lives of people with disabilities, providing them with an amazing assistance dog which will, in turn, give them greater independence in their every day lives.
Is your group looking to support a charity which truly makes a difference?
Request a speaker to come and talk to you about the work that we do.
Help transform more lives