Meet Sharlah, Puppy Parent volunteer from Hull
Posted 9 months ago in the Volunteers and fundraisers category
What does it take for a life to transform? It starts with a puppy, adorable and warm.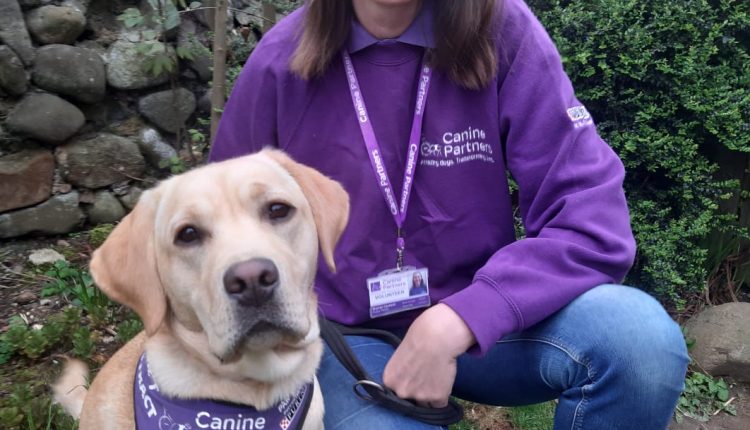 Sharlah has been a volunteer for Canine Partners for over 13 years, including as a volunteer Speaker and a Puppy Parent volunteer. She is currently looking after her 10th puppy-in-training. This is her story:
I wanted to become a volunteer for Canine Partners as my friend was a Puppy Parent volunteer at the time. They suggested I could do it with my family as we  love dogs and had decided not to get another pet dog after our last one passed away at 17-years-old. Joining Canine Partners meant we could have all the benefits of having a dog whilst also knowing it would hopefully go on to change someone's life.
We live in a rural area, just a short drive to the city of Hull and nearby market towns, so we can take the puppy to experience the sights, smells and sounds in all areas. I am at home most of the time as when I started as a volunteer my daughter was in primary school, but now she is in her final year of an Animal Training and Behaviour degree – she wants to become an Assistance Dog Trainer!
What I find most rewarding about being a Puppy Parent volunteer is seeing all of the pups flourish as they grow older. It makes my heart literally burst with joy. I have made some lifelong friends through Canine Partners and now I have friends from other puppy training areas around the country. I enjoy our classes with Canine Partners' expert trainers, as there is always something new to learn or improve on and every pup is different.
I would encourage anyone to join Canine Partners as a Puppy Parent volunteer. It is hard and sometimes challenging with both happy and sad tears, but the rewards are amazing as you are making new friends, both the two and four-legged variety. Plus, I never miss the opportunity for tea and cake!
What does it take for a life to transform? It starts with a puppy, adorable and warm. Could you love and care for the UK's future assistance dogs?
Help transform more lives