Meet Katy, from the West Midlands
Posted 1 year ago in the Our partnerships category
A few hours after Katy was born she was diagnosed with Cerebral Palsy. Her canine partner Folly's 'infectious zest for life' ensures that Katy's dream of living independently is a reality.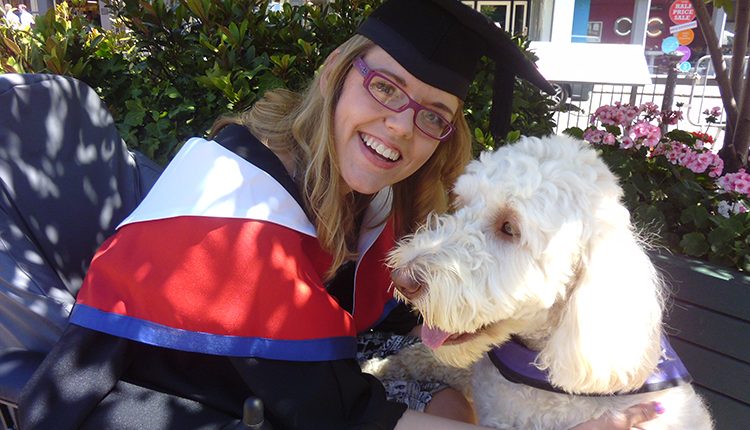 Katy was partnered with canine partner Folly in September 2013. This is her story:
As a young woman, I now feel like I have everything to live for and want to get out there and seize every adventure that comes my way. However, this wasn't always the case.
A few hours after I was born, I was diagnosed with Cerebral Palsy and my parents were given a very bleak prognosis. Ever since then, my life has been a long series of fights. Sometimes even to just stay alive. There is a wrongful assumption that being born with a disability means you accept it as you know no different, but I found accepting myself very difficult when I was growing up. This wasn't helped by being in a mainstream school, where I regularly felt left out and my confidence plummeted. This was amplified by difficulties I was facing at home. I became very insular and wanted to avoid all social situations.
With quite a lot of apprehension I chose to attend a university two hours from my home and live in halls of residence. My first term at university was very difficult. I was now responsible for employing PAs and getting the necessary academic and residential alterations made. I was desperate to be socially included, but the large majority of students saw me as totally different to them as they could not see past my wheelchair and would choose not to interact with me. I quickly lost confidence and became shy and introverted once more, which created a vicious cycle because I didn't feel able to start conversations with the other students and they felt the same about me. I only had a handful of friends. I have always been a perfectionist and threw myself into my university degree, as a desperate attempt to prove those who doubted my abilities wrong. Along with this I was only being funded a few hours of support a day, which was causing me to feel fatigued and frustrated. Every day was becoming the same and I could feel my mood sliding. I didn't like where I was heading but I felt like I had lost all control over my life and I was losing interest in everything I had previously loved.
Discovering Canine Partners
This all changed when I went down to Canine Partners to meet a dog they had in mind for me. On my initial assessment I had requested a calm, laid back dog. Looking back, I think this was probably a reflection of the apathy I felt at the time. It was a very different dog I was matched with, who quite literally burst into the room. Folly jumped onto my lap and I gazed into her incredible amber eyes and saw so much joy, enthusiasm and possibilities. In that instant she stole my heart and something came alive inside me again.
During my two week residential training course with Folly I laughed more than I had ever laughed before and the heavy weight I had been carrying lifted. I started my final year at university feeling much more optimistic with Folly by my side. I was still determined to do my best at university and worked as much as I could, but Folly ensured I remained grounded. If all else failed she would stand at the side of my wheelchair and drop her ball on me from a great height which always made me laugh. I often felt lonely and homesick at university and it was very reassuring to wake up every morning to Folly's chocolate nose and waggy tail.
Life with Folly
Folly also brought about many other improvements. The physical tasks she does like helping me dress, picking up dropped items, lifting my wheelchair footplates, opening/closing doors, along with many more meant I had less pain and fatigue. Through Folly I saw how such everyday things like taking off my jacket could be fun, whereas before they had been laborious tasks. One of Folly's favourite tasks is emptying the washing machine and she became somewhat of a celebrity in the student laundrette because once she had finished mine she would want to help everyone else with theirs. To Folly these tasks are fun games, but for me they are my key to independence.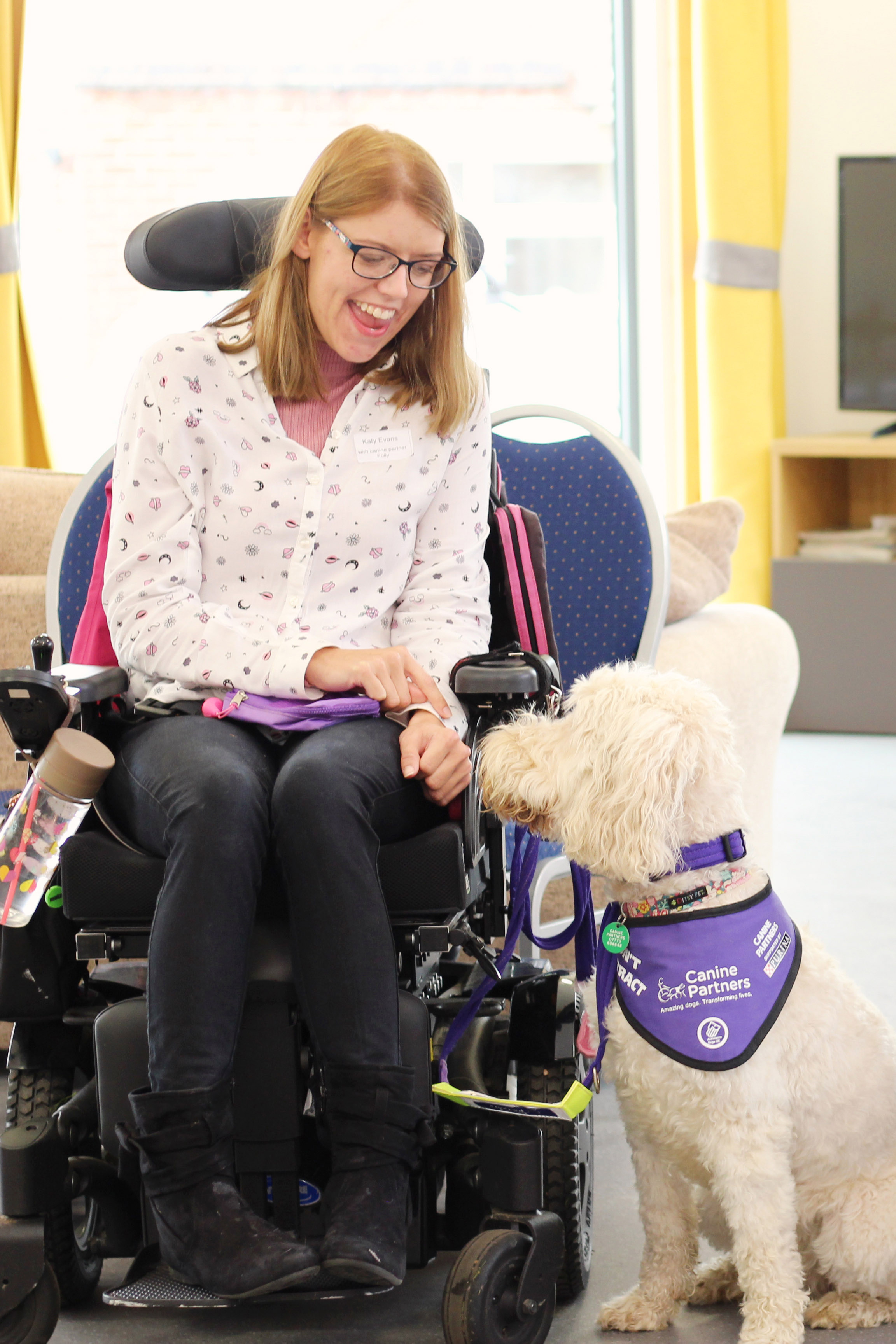 Around the university campus I had gone from being the girl in the wheelchair to being the girl with the amazing dog and that was a very liberating feeling. This attitude extended to the general public too. Before Folly, people had been unsure about how to interact with me and often played it safe by totally ignoring me. Now when I go out people see Folly before they see my wheelchair and this often provides the bridge for them to come and talk to me. Folly is an unusual mix of breeds which attracts a lot of attention and answering questions about her has really helped to build my confidence. I had previously done whatever I could to avoid going out on my own as I was acutely aware of my vulnerabilities but now I don't think twice before taking a spontaneous walk with Folly. It was a very proud moment when I graduated from university with Folly by my side. I had accomplished my dreams and had achieved the First Class degree I was striving for.
My next venture was to move out of university halls and live independently. A few years ago it was just a dream to me but it also caused me a lot of anxiety when I thought about it. Could I cope on my own? Would I get lonely? What if I needed help in an emergency? Folly has greatly reduced these anxieties and provided me with the confidence and security to live on my own. If I fall she can fetch the phone for me. She helps me with so many small tasks, which make a huge difference and she is great company 24/7.
Folly is such a happy-go-lucky dog that I used to joke that if we were burgled she would offer them a toy to be thrown. I was wrong. When someone broke into my house one night, Folly got up sensing there was a problem. Folly woke me up and I realised someone was trying to open my bedroom door. Folly blocked the door, which gave me time to press my emergency alarm. It terrifies me to think what could have happened that night if Folly hadn't been there. The incident left me very shaken and I had trouble sleeping for months afterwards. The only thing to settle my anxiety was Folly's gentle, calming presence. Without Folly I have no doubt that I would have moved back in with my Mum and given up living independently.
"Folly has an infectious zest for life."
Folly does not see me as disabled; to her I am just Katy. This unquestioning acceptance has allowed me to accept myself and given me so much confidence. I landed my dream job of being an advocate for young disabled people and Folly accompanies me wherever my work takes me. She takes everything in her stride with her usual enthusiasm.
Whereas before I would have turned down opportunities due to lack of self-esteem, I now seize the moment just like Folly with her infectious zest for life. It was this that pushed me to fulfil my lifelong dream of doing a skydive. I was able to raise enough money for Canine Partners to buy another puppy so someone else's life can be transformed by these amazing dogs.
Folly ensures that my dream of living independently is a reality and brings me so much happiness every day. I felt like I won the lottery a million times over when I was partnered with Folly. She burst into my life and has brought me to life again and continues to be the guiding light throughout everything. All she expects in return is an ear scratch and a throw of her ball. I couldn't imagine life without her now.
Our amazing dogs make a huge difference to the life of their partner, and never more so than during the Covid-19 pandemic this year. Donate today and help us to continue transforming lives.
Help transform more lives