Meet Julie, from West Sussex
Posted 11 months ago in the Volunteers and fundraisers category
What does it take for a life to transform? It starts with a puppy, adorable and warm.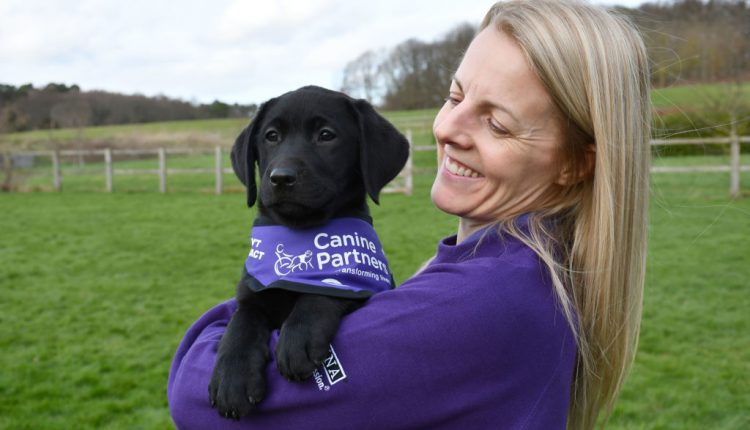 Julie has been a volunteer Puppy Parent for Canine Partners since January 2020. She is currently looking after her first puppy-in-training. This is her story:
"My husband, Martyn, and I had wanted to find a charity to volunteer for, so I did some research and discovered Canine Partners online. The Southern Training Centre isn't too far away from where we live, so it seemed like the obvious choice of charity to get in touch with.
"After we had decided to apply to be Puppy Parents, we were at the local hospital and met a partnership. We spoke to her and she explained to us how much better her life was since being paired with her canine partner assistance dog. It just seemed like fate as we had already decided Canine Partners was the charity we wanted to support. We then knew we were going to proceed with becoming Puppy Parents after that chance meeting.
"We brought our first puppy, Chase, home just before the first UK lockdown during the Covid-19 pandemic. Being a Puppy Parent during lockdown was better than we could have hoped for.  We had only had Chase for seven weeks at that point, so it meant we could dedicate more time to training her.
"The support from the specialist Puppy Trainers was fantastic. They have been available for us on the phone or on video chat whenever we have needed them. Training lessons continued online throughout the pandemic and had been fun and informative. We have nothing but praise for our trainers, and I am so proud of how Chase is developing her skills.
"The most rewarding thing about volunteering and being a Puppy Parent is knowing  that at the end of the process, Chase will go on to enhance someone's life for the better. Having Chase is a pleasure as she is such a joy to have around."
What does it take for a life to transform? It starts with a puppy, adorable and warm. Could you love and care for the UK's future assistance dogs? Please visit caninepartners.org.uk/puppy-parents to find out more.
Help transform more lives