Meet Harriet, from Kidderminster
Posted 2 months ago in the Our partnerships category
After being diagnosed with Duchenne Muscular Dystrophy (DMD) when she was just nine years old, Harriet's condition worsened as she got older. She became a full-time wheelchair user after breaking her ankle at the age of 22.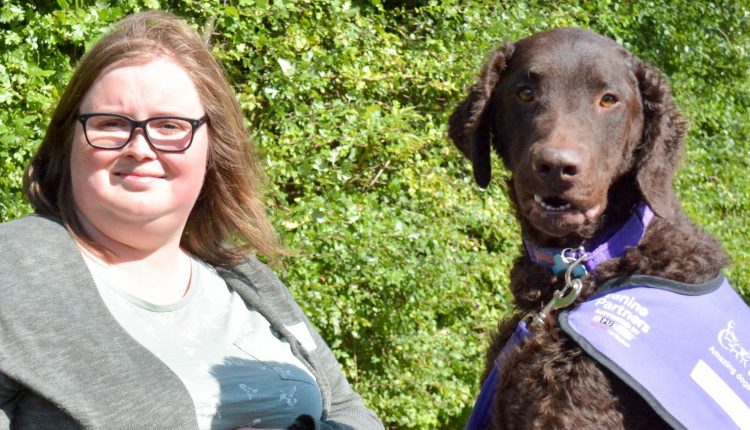 Harriet was partnered with canine partner Petworth in March 2016, giving her back her confidence and the independence to enable her to live life to the full. This is her story.
After my accident I was unable to regain the ability to weight-bear, and have been a full-time wheelchair user ever since. My accident made me feel incredibly low, because I had lost my independence in the blink of an eye. I went from doing things for myself to needing the help of my mum or a carer. I stopped going out on my own, as I was scared of dropping my keys, purse or phone. I became self-conscious, thinking everybody was staring at me in my wheelchair.
I found out about Canine Partners when I attended Crufts several years ago. I remember seeing a demonstration and being amazed at what the dogs could do. I initially put off applying, as I thought I wouldn't be eligible. Breaking my ankle gave me the push I needed to apply, and now I can say it was the best thing I've ever done.
Meeting Petworth
I will never forget the magical phone call I received from an advanced trainer, Chrissie, to say Canine Partners had found a potential match for me. I was so nervous and excited when I went to meet Petworth for the first time. As soon as I laid my eyes on him, I knew he was the dog for me. He was so handsome and looked unusual with his curly coat and long legs.
I attended my onsite training course in March 2016. I couldn't wait to see Petworth again! I was apprehensive about being away from home for two weeks, but I had my mum for company. Whilst the course was tiring, it was also fabulous getting to know Petworth.
Due to my condition I get fatigued easily, but the trainers were lovely and gave me the time I need with plenty of breaks. I did struggle remembering all the commands at first, but by the end of the course they were second nature. Once the two weeks were complete, it was time to take my new friend home and start our new life together.
Life with Petworth
I have so much more confidence now with Petworth by my side. Thanks to him, I have had the confidence to volunteer. We do a day at KEMP Hospice and a day at our local council. I no longer feel anxious and whilst I would never dream of talking to people before, Petworth is a fabulous conversation starter. The general public are very interested in what he does for me – they usually ask if he's a Labradoodle!
The tasks Petworth does for me enable me to go out on my own without being fearful. Before I've noticed I've dropped an item, Petworth is giving it back to me. It doesn't matter how many times I drop my phone, Petworth is always happy to help. I also require less help from a human carer. I have more independence at home as Petworth opens and closes doors, turns lights on and off, brings me my phone, helps me to remove clothing, tidies up his own toys, and finds my mum if I need any additional help.
I really enjoy going on holiday with Petworth. He loves to go to the beach and paddle in the sea. On one trip, the sand seemed hard enough for me to go on to the beach in my wheelchair – big mistake! I got stuck and the first thing Petworth did was try to dig my chair out of the sand. It was very embarrassing being rescued, but I realised Petworth and I had formed a very strong bond.
I see our future involving many more adventures, lots of cuddles and learning plenty of new tasks. With Petworth in my life my future is much brighter. Things I used to struggle with are now a breeze thanks to my curly companion.
Petworth is more than my canine partner, he is my best friend. He has transformed my life and more importantly given me my life back. I am so thankful to have him in my life. Not a day goes by when he doesn't make me smile. Petworth gives me a purpose and a reason to get up in the morning.
Help transform more lives