Meet Gillian, volunteer Fosterer from Leicestershire
Posted 2 weeks ago in the Volunteers and fundraisers category
Have you ever considered a fostering one our future assistance dogs? Read Gillian's inspiring story.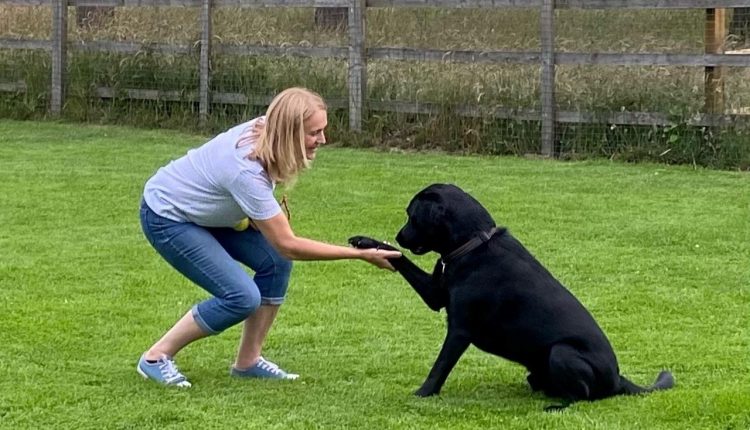 Gillian is a volunteer Fosterer for Canine Partners and has fostered over 20 dogs since 2017. This is her story:
I have been volunteering as a Fosterer for Canine Partners since January 2017. I foster dogs during their advanced training and provide holiday cover for other Fosterers. When the dogs leave their Puppy Parent volunteers and begin their advanced training, they are fostered by local families who look after them.  My role is to make a comfortable and relaxing environment for them where they are loved and cared for when they are not training. It has been lovely having a dog during the week as well as weekends since lockdown, as they really become part of the family and seem to enjoy having a familiar place to relax after a hard day's work! They all have different characters and never fail to make us smile and laugh.
We also help the Advanced Trainers by practicing their basic commands and obedience in a home setting and reporting any issues we encounter. We receive a lot of help and support from the trainers and they are always available if we have any problems out of hours.
I started volunteering after a colleague at work recommended going to an Information Session. We had recently moved to the countryside very close to the Midlands Training Centre and were thinking of having a dog. I was so impressed by what I saw that I signed up straight away.
My most recent foster dog was a black Labrador called Lizzie who came all the way from Scotland! It was hard for Lizzie and her puppy parents to say goodbye as they had been together longer than normal as a result of lockdown. It didn't take long for Lizzie to relax and she quickly became part of the family. Lizzie loved living in the countryside and looked forward every morning to a run in the fields next to our house. On her free days she liked nothing more than to chill in the garden and take in all the country smells! She had a beautiful gentle nature and was very popular with all the neighbours and their children.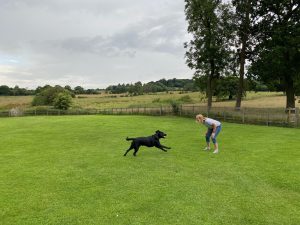 Volunteering for Canine Partners allows us to experience the joys of having a dog whilst also still having some flexibility if we wanted to go away on holiday. It also meant we could do something positive, helping to transform the lives of those who are living with a disability.
A couple of years after I started volunteering I was very lucky to see this first hand when a new work colleague came along who was on the waiting list for a canine partner. It was incredible to see what a difference her new partner made and what an amazing bond they now have. It was also a real bonus having one of these wonderful dogs in the office every day!
The first couple of weeks can be challenging for the dogs as they go through a huge change in their lives. It is really rewarding to help them settle in and help them flourish into the amazing dogs they become. You can't help but feel a huge sense of pride when they complete their training and move on to become fully fledged canine partners. It can be hard to say goodbye but when you read the stories from their new partners about how they have transformed their lives, you know it is worth it.
Canine Partners is a wonderful charity to volunteer for. All the staff are incredibly skilled and the welfare of the dogs is at the heart of everything they do.
They are very friendly and provide plenty of support to help us care for and manage the dogs. It is a truly rewarding role whilst at the same time you get to have a fabulous dog living in your home! I highly recommend fostering to anyone considering it. It was the best thing I did and I hope to continue for many years to come. Our home is such a happier place for fostering a Canine Partners dog.
Would you like to experience the wonders of looking after one of our dogs in Advanced Training who will go on to help transform the life of a disabled person? Find out more at caninepartners.org/foster.
Help transform more lives