Meet Fiona, from Bexhill-on-Sea
Posted 6 months ago in the Our partnerships category
Fiona has Multiple Sclerosis (MS) and was partnered with golden retriever Wizal in May 2016.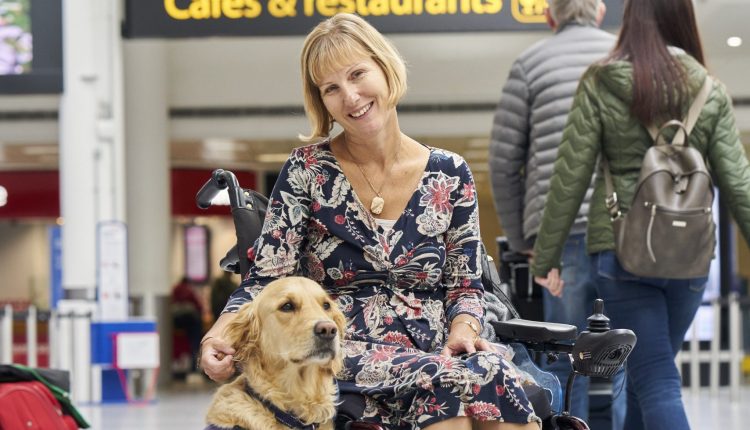 Fiona has Multiple Sclerosis (MS) and was partnered with golden retriever Wizal (also known as Mr Wiz!) in May 2016. This is her story:
My name is Fiona Bower and I live in Bexhill-on-Sea with my husband, two daughters and son-in-law. I was diagnosed with multiple sclerosis (MS) in 2000, at the age of 38.
MS is a neurological condition where the myelin coating which protects the nerve fibres is damaged, with the result that messages can no longer pass effectively between the brain and the rest of the body. MS has many varied symptoms which can include difficulties with coordination, eye problems, muscle spasms, chronic fatigue and pain.
My secondary progressive MS means that I am a full-time wheelchair user. When I was diagnosed with MS my daughters were still small, age seven and 10, and I was working full-time as a nursery teacher.
My condition progressed quickly, which was both difficult and distressing. My confidence plummeted and I became isolated, lonely and frustrated. I retreated from my old life and, realistically, I spent about eight years like this.
Discovering Canine Partners
It was my daughter who made me aware of Canine Partners but, to begin with, I felt reluctant to apply as I had little self-belief. I did eventually submit the forms and about nine months later, when I was being assessed, I realised how transformative this could be for me, as well as my family. About 15 months after my assessment, I was contacted and told that there was a dog who looked as though he could be suited to my needs – Canine Partners ensure that you're matched really well with your assistance dog.
On-site training with Wizal
I was pretty anxious before my advanced training in May 2016: when your hopes are pinned on something like this being a success it can feel very daunting. The training was intense and emotionally-draining but Clare, one of the trainers, was so patient and it helped that I bonded with Wizal – soon to be known as 'Mr Wiz' – very quickly.
It's a steep learning curve and I think it's important that prospective partners are prepared for this and do not feel discouraged by thinking that everyone else finds it easy. But it is absolutely worth it.
Unfortunately I fell ill right after I got home from the training, so it was decided that Wizal should go back to the Southern Training Centre while I recovered. Despite this initial set-back, once he was back with me, things took a huge upturn.
Life with Wizal
I developed the confidence to do and try more things and my world opened up again. I started volunteering at Gatwick Airport, as part of the passenger advisory group. Mr Wiz even has an airside pass in the form of a lanyard with his photograph on it which describes his role as 'Dog Extraordinaire'!
The bond was evident very early on in the process and we've grown to be increasingly in tune with each other. Mr Wiz anticipates what I need, without me having to ask, and will often fetch my slippers before I mention it – it really feels as though he cares for me. People even say that we look alike – we're both blonde, although his is natural and I have highlights!
Mr Wiz loves a task and is very focused. Daily support includes helping me to get dressed and undressed, as well as collecting the post, changing the bed sheets and helping me with the laundry and dishwasher. He's so patient with me and never minds how many times I drop things and he has to pick them back up.
I appreciate Wizal's enthusiasm with his task work but it is almost secondary to the confidence he's given me to get out and embrace my life. I successfully co-led a Christian retreat with Wizal by my side and I'm also part of the Govia Thameslink railway access advisory panel. Mr Wiz comes to meetings with me – he sits very patiently and politely for up to two hours but after that he gets a little restless and offers me his paw to show that he's ready to go. He also accompanies me to the hairdressers and the beauty salon without complaint. He's quite a sensible character, though, and makes it clear that he expects to be home and in bed by 9:00pm.
Mr Wiz is a really significant part of our family. He was even the ring bearer at my daughter's wedding – one of our Aftercare Trainers helped him learn this very important extra task!
Help transform more lives