Meet Dominique, from Solihull
Posted 6 months ago in the Our partnerships category
The Covid-19 pandemic has brought a lot of new challenges for our partnerships, including Dominique and canine partner Misty.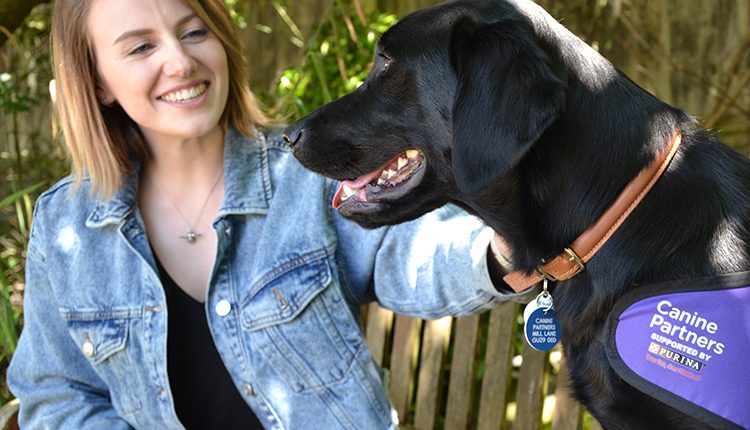 Dominique was partnered with canine partner Misty in June 2019. This is her story:
I have multiple conditions that have a big impact on my day-to-day life. I have a surgically-fused spine following treatment for severe scoliosis, I have Ehlers-Danlos Syndrome that causes chronic pain, chronic fatigue as well as dislocations, gastrointestinal difficulties and heart rate irregularities and dysautonomia (to name a few!). On top of this, I have Catamenial Dystonia – which means I have very severe dystonic spasms that can affect my entire body, this is related to my menstrual cycle and hormones.
Prior to being partnered with Misty, my life had begun to escalate into a pretty lonely and miserable place. My disabilities began revealing themselves when I was 16 years old, starting with scoliosis. Before this, I had some difficulties, but they all went unaddressed – then I hit 16 years old and it was like an endless tsunami of ill health and mysterious illnesses. I felt like I was drowning. At 16 years old, you are supposed to believe that you're about to gain a sense of independence and freedom, but I felt as if I was reverting back to a five year old.
I tried to continue in education the best I could, as in some ways I was in denial regarding my ill-health, but between juggling college and university I was having endless trips to hospital or being housebound or bedbound. Things got extremely bad and I ended up having to withdraw from university for a period of time. Consequently by the time I was about 22 years old, following six years of turmoil, I went into some really dark places and was in a constant state of anxiety mixed with anger. It put strain on my family and our relationships were really tested – I felt like a prisoner in my own home and a monumental burden on my parents and sister. Simply taking off and putting on my shoes or just waking up became things I heavily relied on my family for. It was truly demoralising.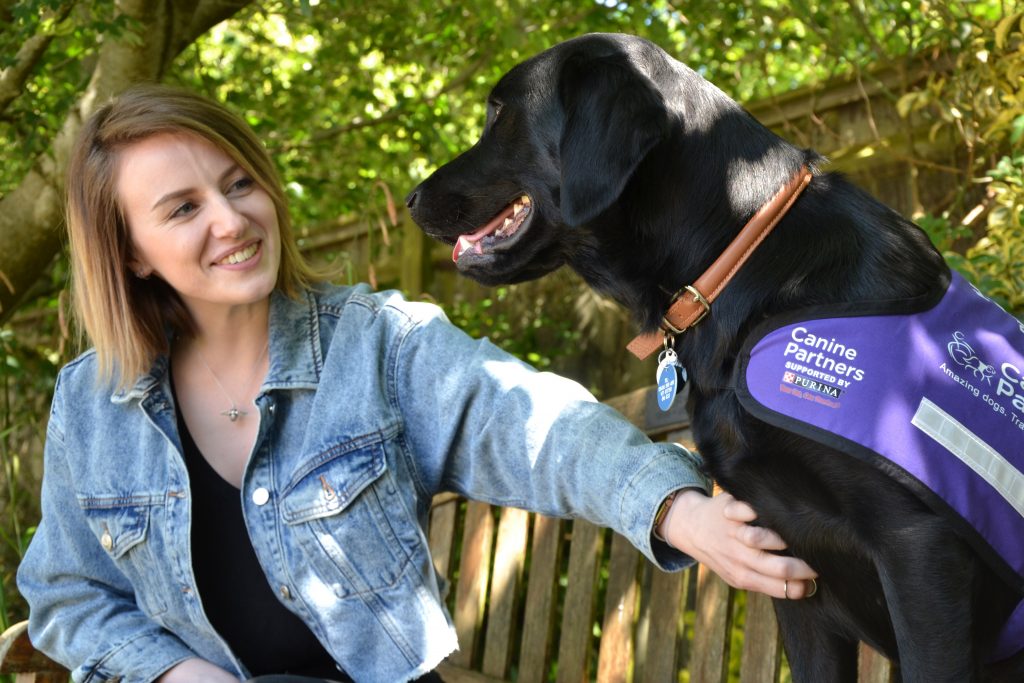 Life with Misty
Since my partnership with Misty, I can honestly say my life has changed for the better. I never realised how much difficulty, discomfort and pain every day tasks caused me, until I had Misty – when all of a sudden that pain began to subside.
The biggest tasks that make the most difference to my day to day life are lower level tasks – such as taking shoes off, taking trousers off, tidying up, retrieving dropped items or collecting items from low cupboards/shelving. Prior to the support from Misty, either my family or partner would have to assist me or else I would have to leave the item and resort to utilising something else. If all else failed, I would force myself to try and get the lower level object – causing myself unnecessary pain and injury. You can imagine how much thinking and pre-planning went into the simplest tasks, but now – it's a breeze! Misty performs these tasks so effortlessly and happily, that it's come naturally to the both of us. It feels as if this is the way these tasks should have been performed all along. Likewise, Misty's ability to find my emergency medication and to get help for me is truly lifesaving.
Before I had Misty, I lived in a constant state of alert – I would always have to be accompanied by someone I trust in case I became critically ill and I always had to be extra precautionary when near roads or other busy places. Now, due to Misty being so in-sync with myself, as well as our bond ever-growing – I feel comfortable to be out and about, with just Misty and myself. Misty has wholeheartedly given me a momentous chunk of my independence back. Overall, thanks to my partnership with Misty: my chronic pain is more manageable, my fatigue levels have lessened, and my anxiety and fear have begun to subside. Furthermore, although a vast amount of my symptomatology related to my disability and illness still remain and will not disappear – having Misty by my side in those horrible times, makes fighting through the hard times that little bit easier. Overall, it is without a doubt that Misty has made huge positive physical changes to my life.
For all of this – for all the positivity that has been poured into my life – I have to wholeheartedly thank everyone, the employees and volunteers, at Canine Partners. I feel so incredibly lucky for having Canine Partners in my life. They not only gave me the most devoted and sweet-natured assistance dog, but they've also continued to give me support, encouragement and life-skills related to overcoming hurdles related to disabled living. With every wobble I've had – they've supported me wholeheartedly and I can't begin to thank them enough. I honestly don't know how I got so lucky to be taken under the wing of such a sensational charity, but I can't begin to thank you all enough. Each and every dog Canine Partners raises, will most-certainly have an incredible impact on somebody's life. I am so incredibly grateful to them for giving me my independence and life back again.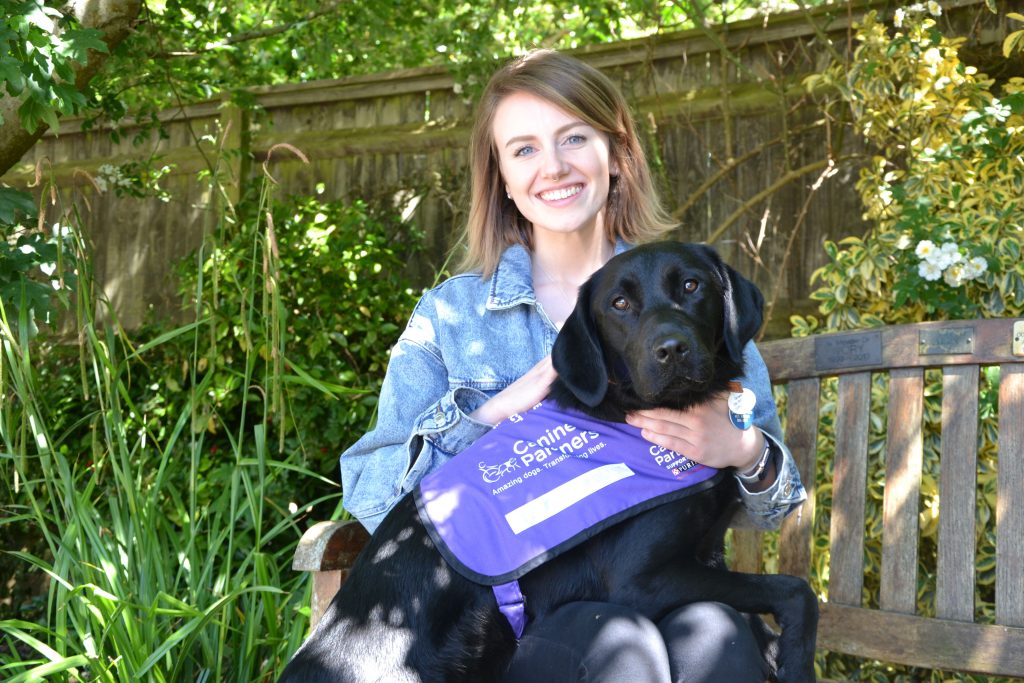 Adapting to life during the Covid-19 pandemic
I am currently shielding due to being at greater risk of Covid-19 due to having a neurological and very rare condition. It is definitely a scary time – especially when you receive the letter stating you must be shielded in your home for 12 weeks. In all honesty, it feels surreal. It almost feels as if you're living in a post-apocalyptic, science-fiction film where you are most at risk of dying. It really is a morbid prospect and risk to be facing.
Shielding and being in lockdown feels as if I am greeting an old (albeit unwelcome) friend. Before coronavirus and before my partnership with Misty, having a disability and illness that can be extremely severe and paralysing meant I was and am very familiar with being housebound and bedbound for a prolonged period of time. Being forced into this scenario due to a global pandemic is truly unnerving. On one level, I've experienced this before, so I know what to expect. On the other hand, I feel agitated and frustrated that it is happening again outside of my control. There is this constant state of anxiety and fear in my household. If I do contract coronavirus, I could be seriously ill. Consequently, my partner and I have to be very "clinical" – cleaning and washing things almost obsessively to control potential contamination.
My pain levels have increased, having a direct impact on my general mobility (bending, opening doors, and carrying items for example). I am experiencing increased dislocations and subluxations due to deconditioning in my muscle tone and I'm experiencing greater levels of fatigue and exhaustion. This is all a direct result of a lack of activity and exercise available when being isolated to my home. While the points stated above are side effects of house-bound isolation, that I am all too familiar with – there is one key, fundamental difference to my experience this time. I have the beautiful and uplifting companionship of my Canine Partner, Misty.
Within the first week, Misty could definitely tell circumstances had changed and would not leave my side. Now – she is my rock and a constant calming presence. If I begin to feel on edge or am finding it difficult to "switch off", Misty just comes over and gives me the biggest cuddle. Physically, due to my lessened energy and heightened pain/dislocations, Misty will happily and effortlessly pass me items I have dropped, open doors for me and carry items to me that I'm having difficulty holding. Due to Misty and I only being partnered for just under a year, this time has proven invaluable! We get to bond by training and spending quality time together. She is now enjoying practising emptying and filling the washing machine for me, she is absolutely in love with finding my emergency medipack from around the house, and she is completely enthralled with practising getting my partner for help (like playing hide and seek around the house)! Overall, we are utilising this time the best we can – to bond, to train and to refresh tasks we may have been a little rusty on!
Currently, my partner and I are trying to view this current lockdown as something positive and an opportunity. I didn't think it was possible for my love to grow more for Misty, but it definitely has. Prior to having Misty, being housebound would have pushed me into a really negative space. However, now, I wake up every morning with a purpose! Misty needs me, just as much as I need her! She is the most sweet and gentle girl, doing anything she can to make me smile. Whereas before, I felt like I had the worst luck – I now wake up each morning, seeing Misty's happy, fluffy face and feel like the luckiest person in the world. I am so grateful to Misty and Canine Partners – I feel this would have been a completely different story if I wasn't lucky enough to have the wonderful Misty in my life. She has changed things in my life for the better, in more ways than I could have imagined and now, more than ever, I am feeling so thankful to have her by my side.
I sincerely hope that people of the UK and globally, learn from this isolation and global pandemic. In particular, I hope individuals who are experiencing being in self-isolation for the first time, will remember how it feels and utilise this experience to help shape their actions and outlook going forward. Isolation is no stranger to individuals within the disabled community. We often spend years isolated – emotionally, physically and socially – and often have no one to turn to and no one who understands. Now, on a national and global level, millions of people understand what it is like to be trapped in your homes, removed from social interaction and controlled by limitations on your daily routines. I wholeheartedly hope that this will prove to be a turning point for those in and out of the disabled community and that this collective experience shall add to a collective empathy and understanding for individuals with disabilities – helping shape the way we actively support this community going forward.
Our amazing dogs make a huge difference to the life of their partner, and never more so than during the Covid-19 pandemic this year. Donate today and help us to continue transforming lives.
Help transform more lives