Meet Denise, from Staffordshire
Posted 1 month ago in the Our partnerships category
When Denise was born with Spina Bifida, her parents were told that I would not live more than two weeks. Having canine partner Murray by her side means Denise has more confidence, 'good company', and a reason to smile.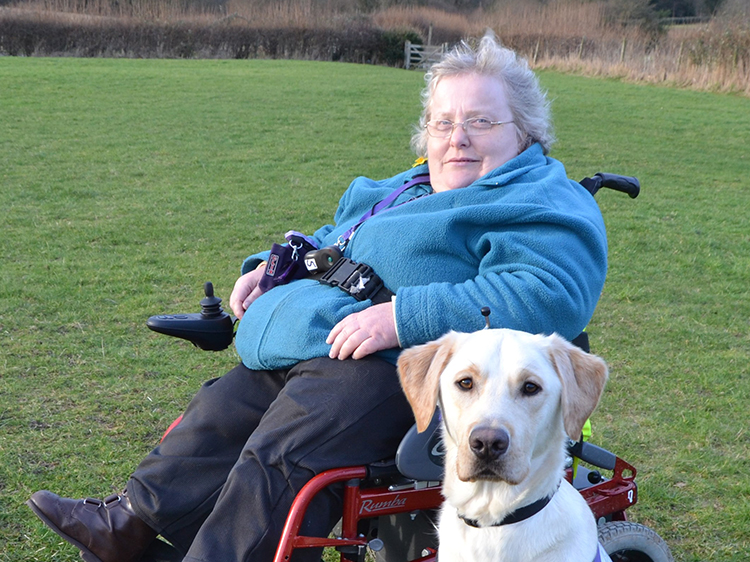 Denise was partnered with canine partner Murray in February. This is her story:
I was born with Spina Bifida and my parents were told that I would not live more than two weeks but after more than half a century I'm still here! I spent most of the first five years of my life in and out of hospital which meant that I didn't learn to walk until I was six years old. When I was allowed to leave hospital for the last time, my parents asked me what I wanted to celebrate; a party or a dog. I chose the dog, named Kim, and he was a close companion for almost nine years.
After school and college I had to find work and I was lucky that I managed to get employment with HM Revenue and Customs where I remained for 33 years. I then spent 12 months volunteering with a local charity. During this time I gave myself 12 months to get another job, which I was successful in doing after 4 attempts. Unfortunately due to the Covid-19 pandemic I was made redundant at the end of August this year.
I have always tried to be as independent as possible. However, since my mum passed away in 2008 life became more difficult. I was now living alone and having to cope with paying bills, food shopping and cooking; none of which I'd done whilst mum was still alive. After her death, I started to get very lonely and withdrawn. During the week I was fine because I had work to go to but at weekends I felt that, once I closed the front door on a Friday night, I wouldn't see anyone until I went to work again on Monday morning.
I decided that I would get a dog of my own eventually but that I would wait until I retired. As I got older things got harder and harder to do. I wanted to try and stay on my feet for as long as possible but then I was transferred to a floor where I had to walk the entire length of the building to get to my desk. I really struggled with this and so I reluctantly agreed to have a wheelchair.
Discovering Canine Partners
I think it was about this time that I saw a documentary about a man who had been in the Navy, had a car accident and become severely disabled as a result. He had a canine partner. I wondered about applying, but did not take it any further as I did not consider myself disabled enough to warrant having an assistance dog.  Eventually I plucked up the courage to ring and ask for an information pack. When it arrived, I thought, "No, it's too big a commitment to take on". However I kept on talking to my friends about it until, eventually, one friend said, "where's the application form? Get it filled in while I'm here!", so I filled in the form and sent it off.
After getting through all the assessments, the day finally came when I got to meet my potential match, Murray. I don't think I'll ever forget that day! He came into the room with his trainer and came straight to me to say hello. Afterwards we went outside and she asked me to go to the other side of the field and call Murray to see if he would come to me. I felt really proud when he came bounding across the paddock, ears flapping and his mouth wide open in a huge grin! It was at that moment that I knew that we were going to be great partners.
Life with Murray
I have to say that applying for an assistance dog is the best decision I have ever made. Murray has made such a difference to my life. Not only is he there to pick things up when I drop them, which is his most frequent task, or to open and shut doors for me but I don't feel alone any more with him around. I have a reason to get up in the morning because he needs feeding, playing with and exercising in order for him to be happy and healthy too.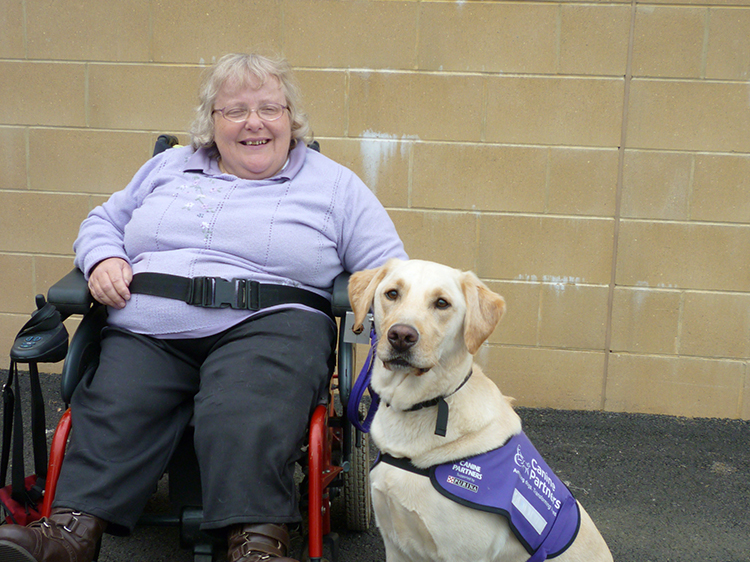 Murray has made such an amazing difference to my life that it is unbelievable how much I have changed. I am far more confident now than I was. With him by my side, I feel that I can do anything. He is good company too; I used to talk to myself when I was alone. Now I talk to Murray and don't feel so stupid, although to be fair Murray does have a habit of walking off once he's bored of my prattling!
Ever since I've had Murray I tell everyone I meet that the most important way in which Murray has changed my life is that he makes me smile or laugh every single day. He makes me want to go out and meet new people but, more than that, he makes me feel more positive about the future.
Our amazing dogs make a huge difference to the life of their partner, and never more so than during the Covid-19 pandemic. Donate today and help us to continue transforming lives.
Help transform more lives