Meet Caroline, from Aberdeenshire
Posted 5 months ago in the Our partnerships category
Caroline has Fibromyalgia. She was partnered with Hattie in October 2015.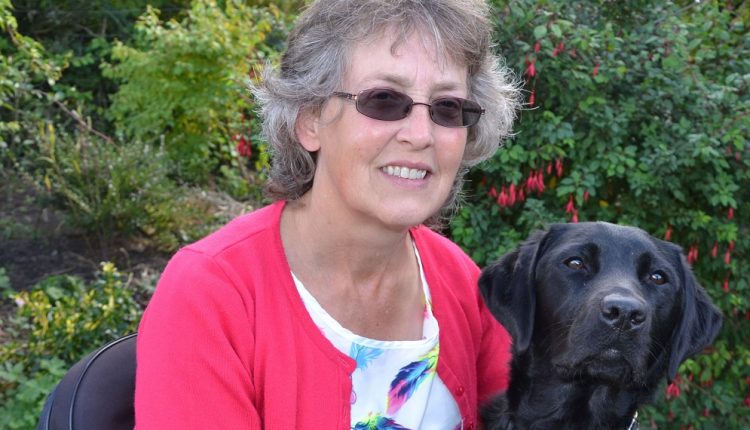 Caroline was partnered with black Labrador Hattie in October 2015. She has Fibromyalgia which causes pain all over her body, as we as other symptoms such as increased sensitivity to pain, fatigue and muscle stiffness. 
To tell her story, Caroline enlisted the help of a friend, a poet, to write a poem all about their amazing partnership.
"My Life with Hattie"
Hattie's my companion dog, my canine love it's true.
The story of our friendship, in rhyme, I'll tell to you!
I'll start at the beginning, before she came to me.
My life's changed for the better… that you soon will see!
Before dear Hattie, sad to say, I lived from day to day.
No forward plans, no going out, at home I'd tend to stay.
If I dropped things, it was so tough, to try to pick them up.
Trips were a planning nightmare, sometimes with a hiccup!
My Dalmatian Rosie, alas, was far too strong.
Pulled me and my scooter over, as we went along!
Re-homing her… it broke my heart… I felt I couldn't cope.
Then Canine Partners took me on and gave me cause to hope.
I waited eighteen months in all (it seemed an age to me)
But then I met my Labrador, my lovely fun Hattie!
My life has changed, now I'll tell you, how each day is spent…
We are a pair, Hattie and I, together we're content.
First thing in the morning, she nudges me from sleep…
If my girls get in the bed, in she too will creep!
Then she gets my slippers… she gets much praise from me.
And very patiently she waits… while I have a wee!
We go into the kitchen, I put the kettle on
She nudges me, and wriggles, all sleepiness now gone.
After lots of patting, and praise, and doggy fun,
We're off into the garden and her routine's begun.
She makes me laugh, she runs around, then, to her gravel plot.
She sniffs until she finally finds her chosen toilet spot.
First she does a "number two" (some would say a "poo")
Then another run around before a wee's done too!
"Good girl Hattie" I then say… she also gets a treat
I can't resist, she does get spoiled! She knows how to look sweet!
"Toot toot" from me, breakfast for her, she returns the bowl when done.
Then off to do the washing, her jobs have just begun.
Once she's opened up the door, she gets clothes bit by bit.
She slams the door (Expects, and gets, more treats I do admit!)
Hanging out the washing is also done the same…
Though disappearing socks, I fear she thinks is just a game!
Hattie loves my daughter, but does take her favourite toy!
Reluctantly she'll give it back… she won't want to annoy!
When she has a tug of war, looking for some fun
It can really wear us out until the game is done!
Soon we go out, put on our coats, Hattie needs a run
By my scooter Hattie trots, wiggling her bum!
Pavements, shops or busy roads, they are not a worry.
People often stop and chat, were not in a hurry.
"Up switch Hattie" I will say, at the crossing in the street
The button's pressed, on to the park, doggie friends to meet.
Off the lead it's Frisbee or football 'cos she's free.
After play (and showing off) I call her back to me.
These are the words that Hattie knows, these are her commands
"Let's go", "Tug tug", "Up switch", "Heel", "Front" are some of my demands.
"Side", "Behind" and "Settle down", "Wait", "Touch" and "Bring it here"
"Go to bed", "Sit" and "Down", the meanings are quite clear.
Hattie's very clever, she's learned a lot… although…
If she picks up food I've dropped… she licks it first I know!
She is always eager, to get the ringing phone.
TV remote is brought to me… I do not watch alone!
We snuggle up together, she loves to have a cuddle…
It makes my knitting difficult, and can lead to a muddle!
Hattie sighs through the day… to get my full attention.
She really likes me to herself, and this is her intention.
She also likes an early night, (I think it's all that playing!)
She nudges me to make a move "It's bedtime mum" she's saying!
Helping get my clothes off, is one of her final chores
Then it's to her bed she'll go, (and sometimes Hattie snores!)
Curled up with her favourite toy, a cuddly teddy bear
Soon she's asleep, but if I called, I know she would be there.
Because I now have Hattie, I've made many more friends
I go out more, I smile and chat, on her I now depend.
Hattie goes to craft club, she swims in local burns
She makes life fun, she cheers me up, life has far less concerns.
She brings me joy, she makes me laugh, she brightens up my day.
A partnership of love and trust that cannot go away.
My confidence has rocketed, she's joined our family.
My amazing canine partner, has really set me free!
Help transform more lives