McLaren doesn't just open doors for Vicky, he opens up the world to her
Posted 2 years ago in the Our partnerships category
Our canine partners not only perform useful everyday tasks for our partners, they also give them the confidence to do things they never thought they could ever do and McLaren is no exception for Vicky.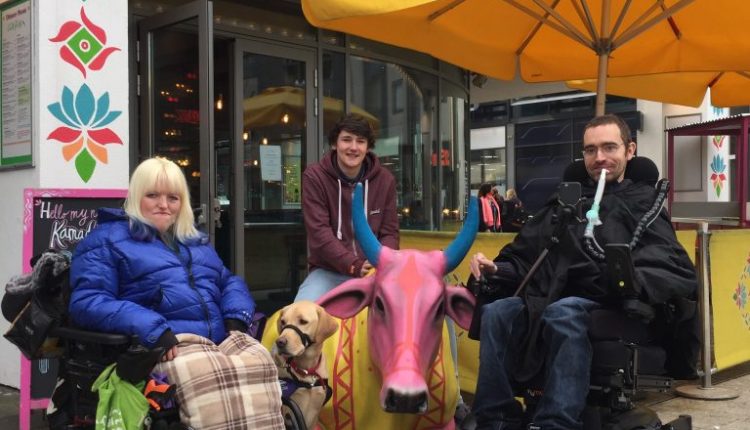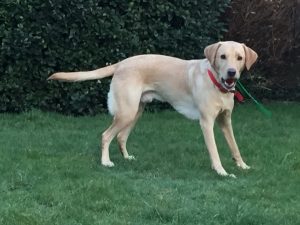 Last month Vicky and her canine partner McLaren went for a day out in Brighton with a couple of friends.  They visited the city on a busy Saturday and had lunch at Pizza Express, where according to Vicky, the staff couldn't be more accommodating, asking them where they would prefer to sit, moving chairs out of the way and bringing another table across so that Vicky could tuck McLaren out of the way of passing feet. After lunch they went shopping and enjoyed the sites of Brighton. McLaren behaved impeccably even when they travelled there and back on the train.
Going to Brighton is something Vicky would never have done on her own before.
Said Vicky: "Being able to take him with me enables me to be a lot more independent and also have the freedom to go and meet friends instead of them always having to come over to me.  This is the second time we've taken a trip like this and I feel so much more reassured about going on the train, and also knowing that if I'm all that way away from home and drop my purse or mobile that I wont be having to rely on the good nature of strangers to retrieve them for me."
Not only was Vicky able to enjoy a day out with friends because of McLaren but she was also able to try on some new shoes, something which might not seem like a big thing, but something she was never able to do alone.
Continued Vicky: "As I can't lift my legs up to put shoes on McLaren does it for me. In the shop he came round, sat in front of me and flicked one of my legs up onto the other with his nose, like he does at home, so I could try the shoes on.  Once done he repeated the process so that I could try on several sizes, and seemed surprised and excited when I was so pleased and gave him lots of praise for something which is old hat to him as he does it every day."
Vicky and McLaren's day out in Brighton brings home how vital our amazing dogs are to disabled people across the country. McLaren makes a huge difference to Vicky's life in lots of little ways.
Concluded Vicky: "McLaren even met some new friends on the train (a lady who had her hands full with 4 young children) we had a conversation about what McLaren does for me, and they were each allowed to give him a little stroke.  He's such an icebreaker.  The amount of times I hear 'what a lovely, gorgeous, adorable, clever, good dog' when we're out, is amazing!  I still keep having people say 'oh we saw you on the TV a while back, isn't he brilliant'. I wouldn't be who I am today without McLaren. I love him to the moon and back!"
If you have been moved by this story and would like to do your bit to help train even more amazing dogs like McLaren, then please donate. We do not receive any government funding and rely completely on the goodwill and generosity of those who fundraise for us. You can easily make a donation to Canine Partners today. Either visit our donate page or text BARK16 £5 to 70070.
Help transform more lives