Get creative and make a snuffle mat!
Posted 2 months ago
Dog's noses and brains were made to hunt, track and sniff, a snuffle mat provides the perfect outlet for this natural behaviour within the home - find out how to make your own!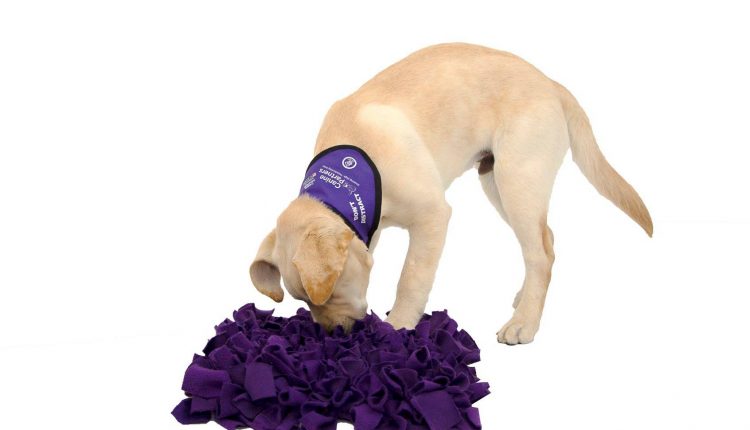 Snuffle mats are a great way to add enrichment to your dog's life, by allowing and encouraging them to use their primary sense – smell. They are thousands of times better at smelling than humans!
Other bonuses of snuffle mats include slowing down feed times and providing mental stimulation to keep their minds sharp and to prevent boredom
Resources you need to make a snuffle mat
A mat – ideally a plastic draining board mat – you can get from Home Bargains and local DIY stores. This one is ideal.
Scissors
Fleece fabric – medium thickness.
How to make a snuffle mat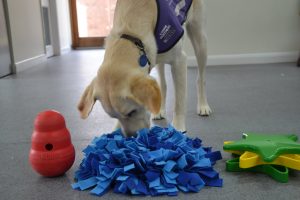 The fleece will need to be cut into lengths – either all the same or varying lengths between  12-25cm (approximately) to give texture and a variety of depth to the snuffle mat.
Take a length of the cut fleece and tie a granny knot once or twice around one of the gaps in the draining mat.
Repeat the process so that all the individual plastic stems have a bit of fleece tied around them.
You can use different lengths to create a variety of depths to the mat for hiding the treats, and you can use different colours to make patterns e.g. stripes. You can even put your dog's initial in one colour in the centre, and then fill the rest of the mat in with another colour – get creative!
Introducing your snuffle mat to your dog
The first time you give a snuffle mat to your dog, place the treats/kibble on top, then progressively make it harder by burying the treats/kibble further into the snuffle mat, so that they really have to use their noses and snuffle to find the goodies.
Good luck, and enjoy getting creative!
Help transform more lives