Face coverings made by the Canine Partners community during Covid-19 raises over £10,000 for the charity
Posted 7 months ago in the A big thank you, Volunteers and fundraisers categories
Multiple fundraisers for Canine Partners have been at their sewing machines this year raising vital funds for Canine Partners by making masks and face coverings for use during the Covid-19 pandemic. Here are just a few of their fundraising stories.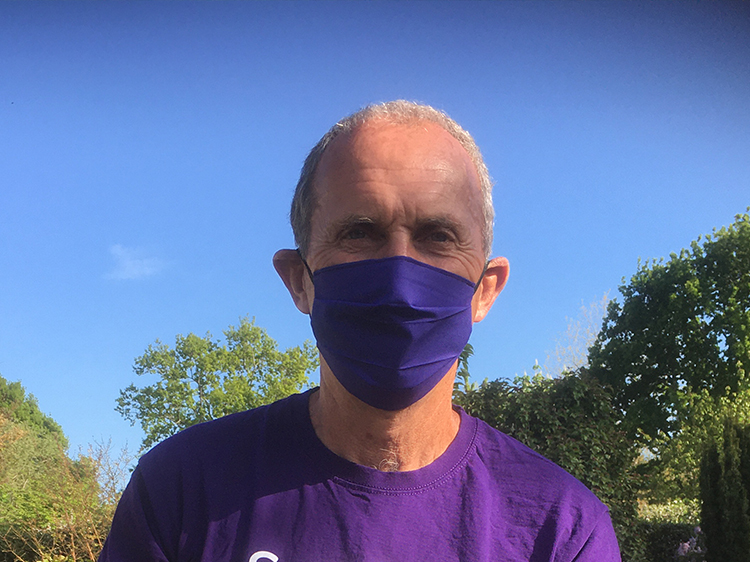 Bev's fundraising story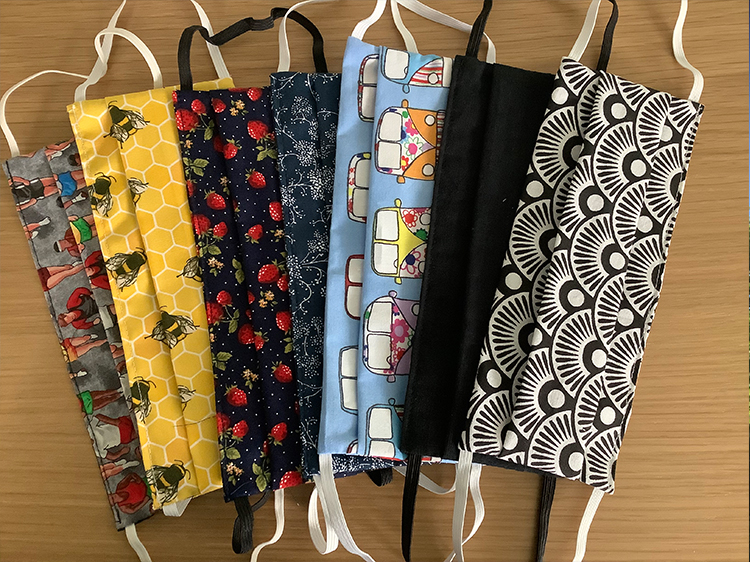 Bev, who is a Volunteer Speaker and Fundraiser in Hampshire, became involved with the charity after a Demonstration Dog visited the school she worked in. She has made over 250 masks in total, with around 30 orders coming in each day.
Bev said: "At the start of lockdown I was concerned for the charity and, with all my talks cancelled, I decided to raise funds by making face coverings. Initially, I wanted to raise enough to cover the possible donations that might have come from my cancelled talks, however in total I have raised over £1,850 through my JustGiving page. I made them for family and friends to begin with but people kindly spread the word. I even had special orders for particular groups, such as bee keepers and yoga classes."
Vicky's fundraising story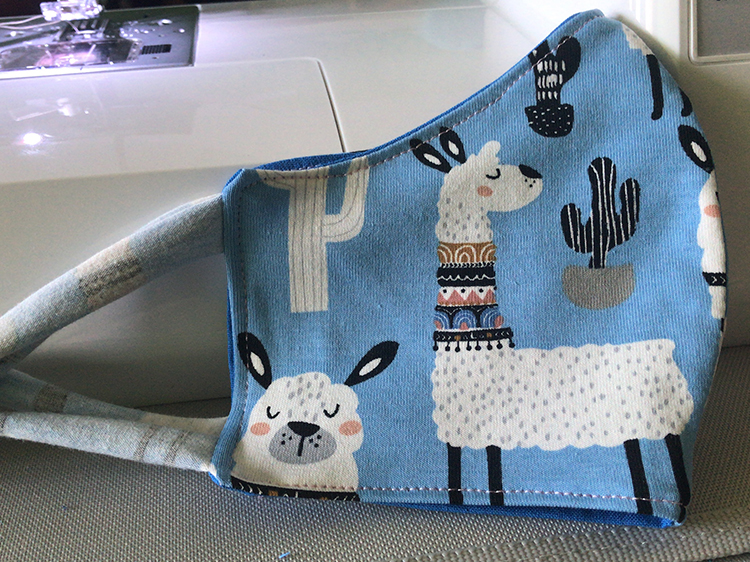 Vicky decided to make masks and raise funds for Canine Partners, as the charity provided her with her canine partner Mclaren, affectionately known as Mac.
Vicky said: "During the Covid-19 lockdown, it became apparent that Canine Partners were missing out on a lot of donations due to cancelled events. I wanted to help as Mac has changed my life for the better and he has provided me with not only physical but emotional support throughout the last six years since we were partnered. I started to sew homemade face masks for myself and immediate family, but once my friends heard what I was doing they asked if they could buy one from me, so I decided to take donations for Canine Partners. I've enjoyed buying new materials, have set up a small Facebook page, and people in the group can pick out the material they want. I have made over 50 masks and have raised over £600 via my JustGiving page so far, with others donating directly through the Canine Partners website."
Hazel's fundraising story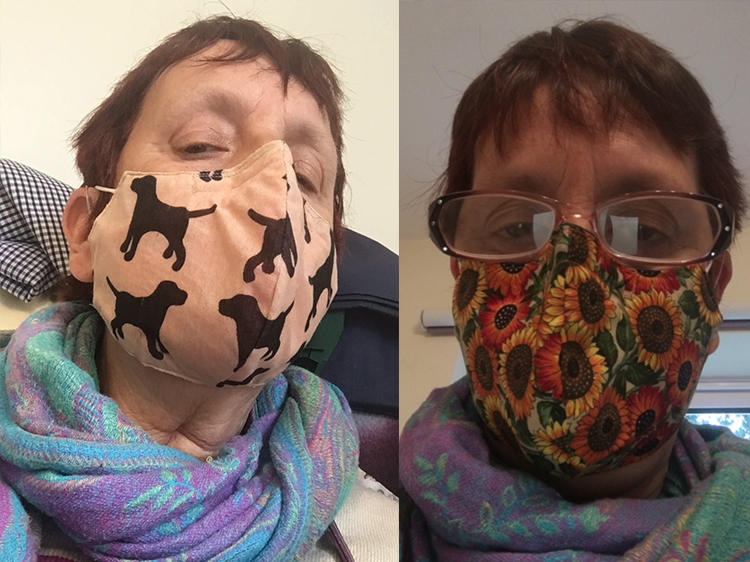 Hazel, who is partnered with canine partner Questa, decided to  make masks as Questa is her 'beautiful canine partner and such a help with everyday tasks'.
Hazel said: "I have made over 1,600 masks and have raised over £4,000 so far through my JustGiving page and over £5,000 in total including fundraising through Facebook. I have made three different types of masks, including some with a breathable waterproof outer layer and some as 'back to school' lightweight masks. All the masks I have made have an aluminium nose strip, soft elastic ear loops and are washable. The village I live in has been very supportive, which is great!"
Gwyneira's fundraising story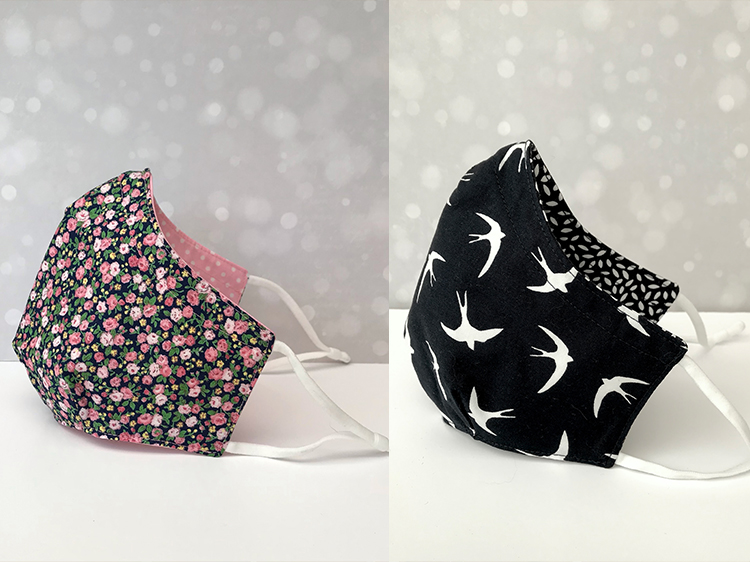 Gwyneira was matched with canine partner Nicki 10 years ago. She decided to fundraise for Canine Partners as canine partner Nicki has enabled her to live a 'more independent and fulfilling life'.
Gwyneira said: "Over the past few years, I've been using my sewing and crafting skills to raise money for the charity to say thank you for partnering me with such a special dog. Usually I would have sold my handmade items at various summer and Christmas fetes with donations being made to my JustGiving page. When it was apparent that the pandemic would mean that these types of events wouldn't happen this year, I started using my fabric stash to make washable face coverings. I initially thought that 50 would be quite an achievement, but over the past five months I have actually made and dispatched over 800!  This has raised over £3000 and my JustGiving page continues to receive donations, taking its total to nearly £10,000. I am continuing to sell face coverings on my Etsy shop with the proceeds continuing to support Canine Partners, training and placing these amazing dogs and transforming even more lives."
Help transform more lives