Denmead Beavers learn about life-changing dogs to receive their Disability badge
Posted 1 year ago in the A big thank you category
We were recently invited to visit the Denmead Beavers and teach them all about life with a disability and how our dogs help provide greater independence.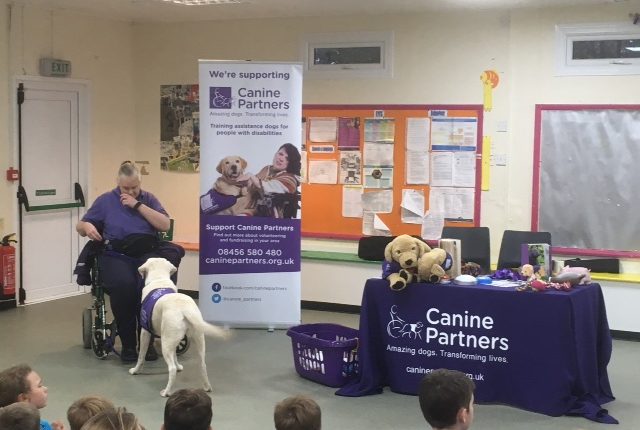 Last month, we were thrilled to be invited to visit the Denmead Beavers group to deliver a talk about the work that we do.
This was to help the children learn about life with a physical disability, and use this new found knowledge to achieve their Disability badge.
A team of volunteers made up of Bev Scammell, Sheena Wright, Tina Williams and demo dog Tina (yes, two Tina's!) went along to demonstrate what our amazing dogs do and how the tasks can support a person who is in a wheelchair.
Bev said:"The youngsters proved they could empathise incredibly well and they thoroughly enjoyed finding out how the dogs are trained and used to assist people living with a disability".
The group also had the chance to have a meet and greet with demo dog Tina, so plenty of strokes and cuddles to enjoy!
The Denmead Beavers raised a fantastic £78.40 for us, and the organisers were also kind enough to provide the humans with chocolates and their four-legged companion with some treats, too.
A big thank you from everyone at Canine Partners for the donation and for making the team feel so welcome.
Would you like to organise a talk?
Our wonderful team of volunteer speakers love visiting your local groups to deliver a talk about our work. To find out more, and to request a speaker click here.
Help transform more lives