A cup of tea and a Whisper: a visit to see the Cup of Tea and Company group in Stubbington
Posted 10 months ago in the A big thank you category
Puppy parent Kerry and puppy in training Whisper recently delivered a talk to a community group in Stubbington, Hampshire.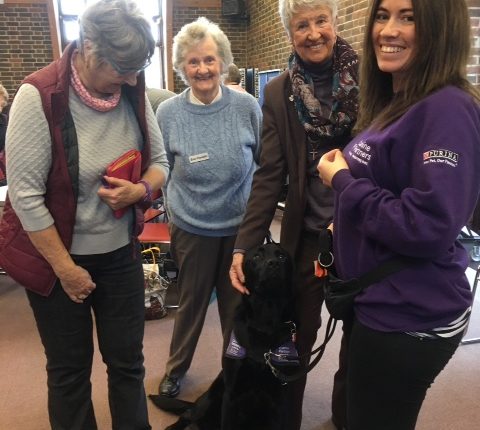 It's not every day you get to enjoy a cup of tea, good company and say hello to an assistance dog in training! But that was the reality on Tuesday 13th February for the Cup of Tea and Company group which meets at the Holy Rood Church in Stubbington, Hampshire.
We were invited along to give a talk about the work we do and how our dogs are trained to support people with physical disabilities. Puppy parent Kerry, along with puppy in training Whisper went along to meet the group and tell them all about our amazing dogs.
While Kerry did the talking, Whisper was there to melt hearts and enjoy the attention from the group's members who gave the pair a warm welcome. These talks are a fantastic opportunity for our puppies in training to get socialisation experience with members of the public once they are old enough.
The group were so impressed by Kerry, Whisper and the work that we do, that they gave us a very generous cheque and promised to spread the word about us. A but and sincere thank you to everyone in the group for their support and kind words.
Would you like a talk from one of our volunteers?
Booking a talk is a great way to find out about our work. We deliver talks to a variety of different groups in communities across the UK. To find out more or to request a speaker to come and visit your group, visit our Request a Speaker page.
Help transform more lives