Collecting over 1,800 stamps: Karen's Fundraising Story
Posted 1 year ago in the A big thank you, Volunteers and fundraisers categories
Karen takes on the Duke of Edinburgh Diamond Challenge, collecting over 1,800 stamps.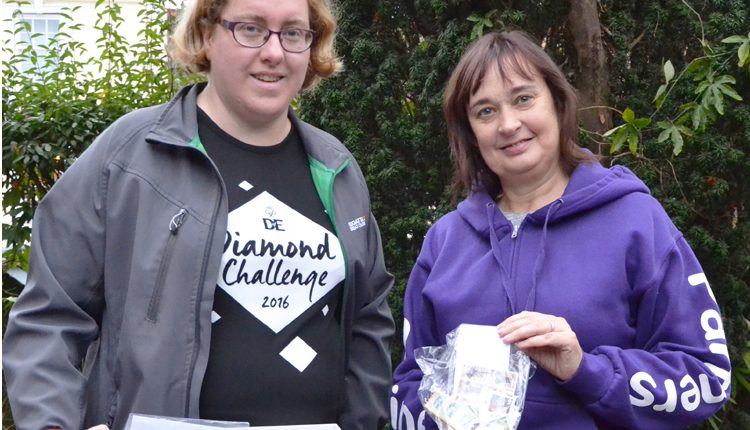 Karen has collected over 1,800 stamps to raise money for us as part of her Duke of Edinburgh Diamond Challenge.
After completing the Duke of Edinburgh Gold Award a few years ago, Karen happened upon an article about the Duke of Edinburgh Diamond Challenge which piqued her interest. The challenge, celebrating 60 years, was to raise £60 through a personal challenge.
Karen said: "The options for the personal challenge were endless, but I knew I wanted to benefit more than one charity through this challenge.
When I remembered a colleague had recently collected stamps for Canine Partners, I looked at the website and realised that the work that you do is not only vital and inspiring, but also very much in keeping with the spirit of the Duke of Edinburgh award".
The Duke of Edinburgh award encourages people to think as a community and work together to overcome challenges – and here at Canine Partners we couldn't agree more that the amazing achievement Karen has made is well and truly in the CP spirit!
Back in October, Karen set herself a target to collect 500 stamps. As the stamps started pouring in, she discovered that she really enjoyed preparing them, and took an interest in how Christmas stamps changed over time as well. She even received a stamp that commemorated the Duke of Edinburgh award.
"A big thank you to everyone who contributed stamps for this amazing charity, we have collected 1,800 so far and more are still arriving"
If you are interested in finding out how you can support us by recycling stamps, visit our Recycle your used postage stamps page for more information and to get in touch.
Help transform more lives