Bramble needs a loving new home!
Posted 2 weeks ago in the Rehoming category
Bramble the yellow Labrador is in need of a loving and permanent new home, can you help?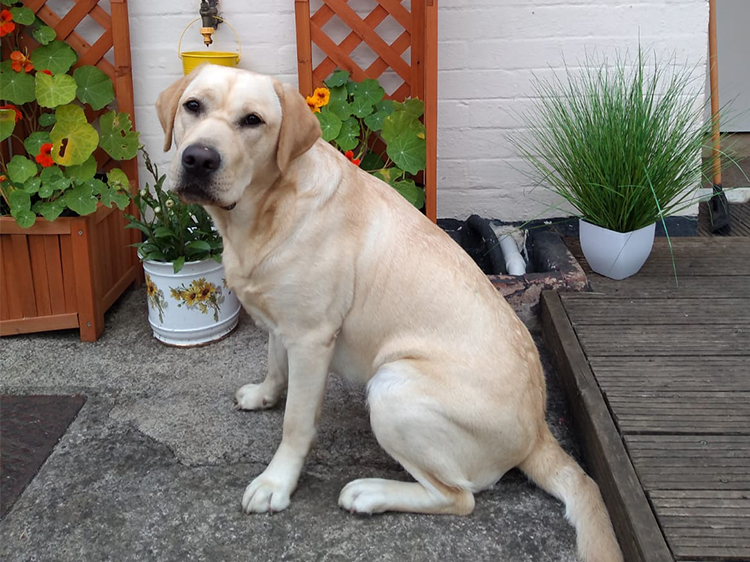 Occasionally we rehome a small number of dogs that are withdrawn from our specialist training programme because we find that some dogs are just better suited as companions than assistance dogs.
Bramble is a 22 month old neutered female Labrador who is bubbly, energetic and will keep you on your toes. She loves a cuddle and will make a great companion to have in your life but will require an experienced owner to take care of her and someone who is willing to take on a challenge. Having experience with a dog with behavioural issues would be ideal.
She is sociable and friendly with people and other dogs but can be over excitable on initial greeting and has been known to excitably lunge and vocalise at other dogs in the distance out on walks. Being a young dog she can be very bouncy and rough when playing off lead with other dogs her age and has had minimal exposure with other pets (i.e. cats and rodents) so will ideally need a home with no other dogs or pets. In the home, she can settle well after a long walk and she enjoys spending time in the garden.
Bramble will need a calm, patient and experienced owner due to her resource guarding behaviours. Bramble struggles to share items with people and other dogs and can become possessive over them. She will need an owner who will be patient with her until she has gained their trust and to be willing to work on this issue. She will also need someone who will be able to read the signs that she is uncomfortable/ guarding and to act in the correct way to avoid escalating her behaviour.
Bramble is still a young dog who loves to learn new skills and would definitely benefit from some training classes.
We are specifically looking for someone who meets the following requirements:
Ideally no other dogs
No small children
No other pets
Someone who has had experience owning strong Labrador sized breeds
Someone ideally who has had experience with dogs with behavioural issues
Ideally someone who is home quite often because due to some of Bramble's behaviours, she may not be suited going to day care
We will be looking at a home that is within 50 miles of our Southern Centre in Heyshott, Midhurst
If you think you would like to rehome Bramble or want to find out more details, please contact natashas@caninepartners.org.uk
Help transform more lives