30 facts for 30 years!
Posted 4 years ago
As we're celebrating our 30th anniversary this year, here are 30 facts about Canine Partners to tell the story of how we got to where we are today.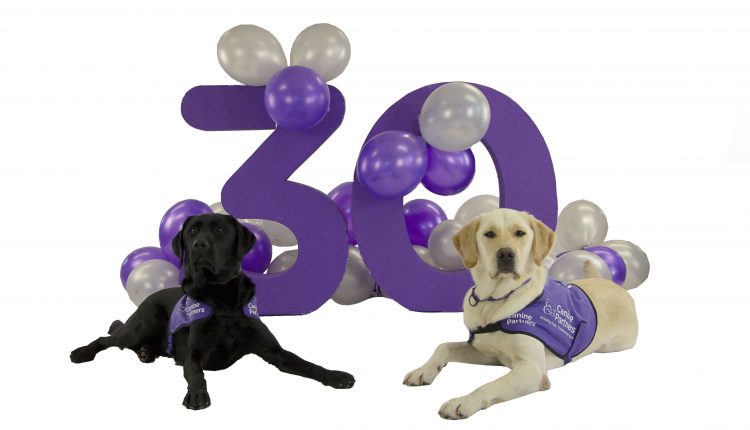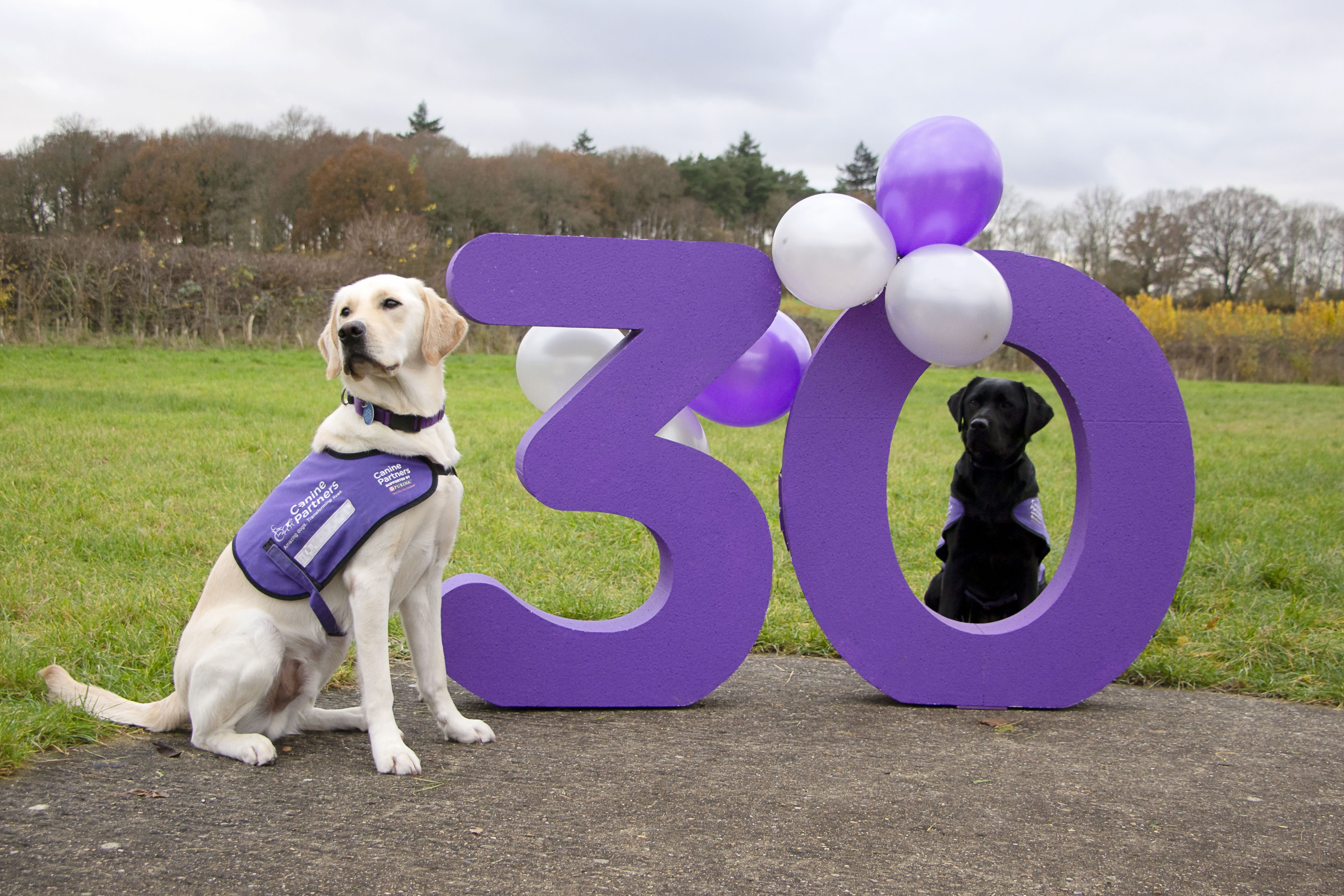 Canine Partners was founded in 1990, by Anne Conway, an assistance dogs enthusiast and dog welfare campaigner, and Liz Ormerod, a well-known vet and animal-assisted therapy expert.
The charity's first dog was a Golden Retriever called Angus.
Other dogs in the charity's first litter were called Alex, Alfred and Amos – affectionately known as the 'A-Team'.
The first female dogs were trained in 1995.
In 1995, other breeds of dogs trained included Italian Spinone, Australian Shepherd Dog and a Bernese Mountain Dog X Golden Retriever.
The 30th dog to go through our training programme was Endal, a male yellow Labrador born in December 1996.
In April 2001, the site at Heyshott, now known as our Southern Training Centre, was purchased.
The site at Heyshott was previously a polo yard, consisting of two large barns, one smaller barn, six stables, a tack room and a gatehouse.
In October 2002, our brand colours changed from red and grey to purple.
The first puppy training satellite in Southampton and our advanced training programme started in January 2003.
In January 2003, operations started at Heyshott.
His Royal Highness The Duke Of Gloucester became our Patron in March 2003.
The charity first met the Queen in March 2004, after she invited us to perform a demonstration at Windsor Castle.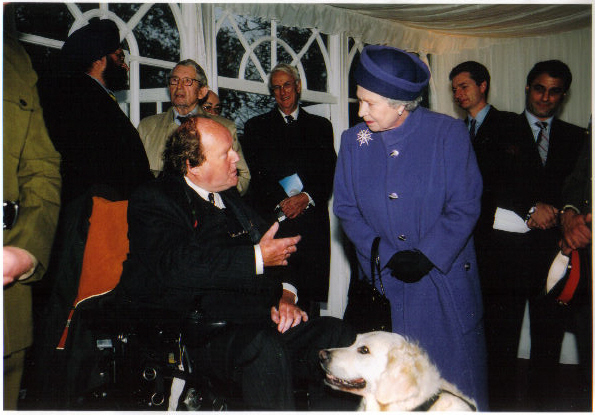 In 2005, the gatehouse was first used by partners attending an on-site training course. The stables were being converted into chalets at the time.
The charity's Scotland branch opened in 2006.
In 2006, two new puppy training satellites opened in Hull and Bedford.
Our first dual canine partner guide dog, Vegas, was placed in March 2006.
Our chalets at the Southern Training Centre were first used for on-site training in early 2009.
In March 2009, our first dual canine partner/hearing dog, Geri, was placed.
The chalets at Heyshott, now called Bradbury Lodge, was opened by Baroness Thatcher in June 2009.
In January 2012, the keys to Fields Farm, now known as our Midlands Training Centre, were handed over to Canine Partners.
In March 2012, Ronnie and Ann Paskouis left the Southern Training Centre to start up the Midlands Training Centre team.
The accommodation block at the Midlands Training Centre was completed in January 2017.
The Midlands Training Centre was previously a derelict pig farm.
Between 2018 and 2019, 75 puppies were born through the charity's own breeding programme.
In 2019, building started on the third and final stage of our Midlands Training Centre – the kennel block.
In January 2020, the total number of volunteers across the country was over 1,050.
Up to January 2020, we have processed 733 Labradors, 275 Golden Retrievers and 233 Labrador X Golden Retrievers though our programme.
We are currently supporting over 450 people living with physical disabilities across the UK by providing them with a canine partner.
Since we were founded, we have created over 880 partnerships.
Our 30th year is all about celebrating our wonderful supporters and volunteers who have helped to get us where we are today.
If you would like to volunteer for Canine Partners during our 30th year and beyond, please visit caninepartners.org.uk/volunteering
Help transform more lives