How 15kg of stamps from Opus Trust Marketing will help us transform lives
Posted 9 months ago in the A big thank you category
We were recently invited to Opus Trust Marketing to show what our amazing dogs can do and collect an impressive 15kg of used stamps to help raise funds.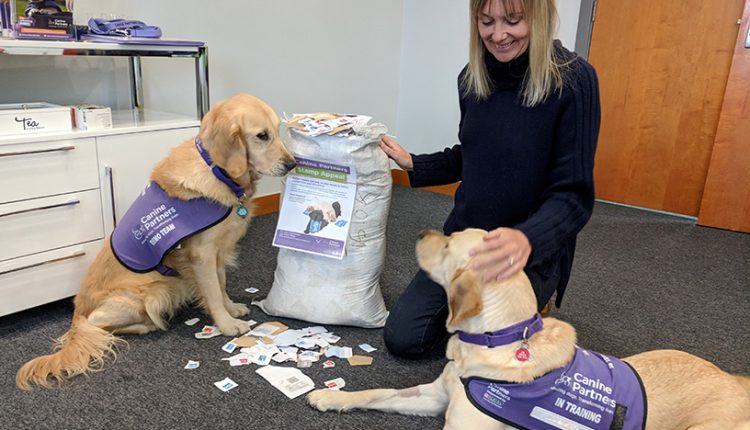 We were recently invited to the Leicester office of Opus Trust Marketing to talk to the staff about the work that we do to transform the lives of people with disabilities. The employees were keen to discover the ways in which our dogs can provide greater independence as well as the psychological and social benefits, including but not limited to confidence and security.
Demo dog handler Pauline, demo dog Blythe, volunteer puppy parent Kenni and puppy in training Queenie all went along to meet the team and demonstrate some of the tasks our amazing dogs can do.
Taking place in the company's Boardroom (no pressure!), puppy in training Queenie was able to showcase the basic puppy tasks she has been learning – touch, tug and retrieve.
Blythe then stepped in to show how those tasks are then incorporated into the work that a canine partner is capable of. From taking off a hat, gloves and coat through to picking up dropped items and tugging and pushing light switches, Blythe wowed the audience with what she can do and the difference that can make to a disabled person.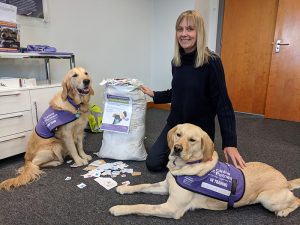 Following the presentation, Blythe and Queenie were presented with a huge 15kg sack of used postage stamps by client services director Katie Sangster.
How we raise funds from used postage stamps
Used postage stamps can be melted down to re-use the zinc within them. The stamps we collect are sent off to a recycling company who do this, donating the value of the stamps to us. The first day cover and collectable stamps we receive are sent off to auction to raise further funds.
We use the funds raised to create amazing partnerships like Nicole and canine partner Penny (named after the Penny Black stamp). Their partnership is funded entirely through the sale of used postage stamps. Each partnership costs £20,000 which includes the cost of the puppy, all of it's training and the aftercare support provided until the dog retires.
A huge thank you
We would like to thank Opus Trust Marketing for such a wonderful visit and for making us feel so welcome – and of course for the amazing amount of stamps donated.
Find out more about our stamp appeal
Want to help create more amazing partnerships by donating your used stamps? It's a simple way of making a real difference.
Help transform more lives